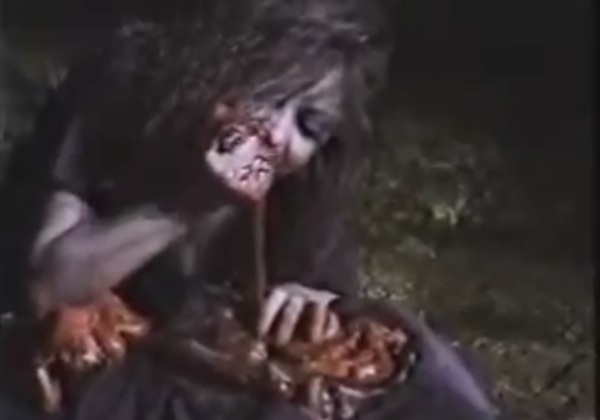 Death Metal Zombies
Horrorscope Productions, 1995. 90 minutes.
Unrated

Those of the death metal persuasion tend to value content over surface. This idea emerges from the basic thought of metal: beauty in darkness through structure, social appearance be damned. As such, the death metal audience tends to ignore the differences that millions of dollars of production bring, and focus on the content of a movie.
Death Metal Zombies is (mostly) such a movie. Its entertainment value matches that of films with much larger budget and media support. However, it is a bit of a mess. Filmed on video cameras in the exburbs of Houston, Texas it features continuity mistakes, sometimes amateurish camera work, and of course non-professional actors, so much so that the directors released an anniversary cut a decade later that halved the film length and re-arranged it to make more sense. This was clearly a project in which people learned their craft, and starts with the almost assuredly marijuana-inspired concept that a cassette tape can contain musical programming to turn people into zombies. However, we have all seen films with far dumber premises that made it out of major studios. Gone Girl, The Expendables, Avengers and Star Trek: Into Darkness come to mind as multimillion dollar tributes to idiocy.
The basic idea of this film is that people in the dead-end middle class outer suburbs of a flat, humid and boring major city (which was nowhere on the news in 1995) have little to live for except death metal, and they find a way to hook up with a "special" tape from their favorite band, Living Corpse. This tape contains thirteen minutes of sonic programming that transform them into zombies who promptly return to their normal lives and act out the fantasies of death, gore and retribution that do not fit into the modern world. This review focuses on the original film, not the edit, which has its charm in that despite some filmmaking ineptitude and a possibly ill-advised metal-centric plot, it captures the lives of its filmmakers and actors and amplifies that experience to a supernatural level. It works perfectly in a post-modern sense as not the focal point of an evening, but a topic of commentary, where the real movie is more the conjecture about it and experience of criticizing it than what is on the screen.
The above-average viewer will spend much of this film wondering what exactly is going on. The filmmakers burn through too much tape setting up scenes, and not enough showing action, which makes viewers wonder what to focus on. This is balanced by relatively strong action scenes with creative (and copious but not overblown) gore, quality violence and a genuinely menacing atmosphere. Were I some kind of film critic, I would loathe this because it insults every pretense of that profession, but as a lifelong media hater who finds most movies to be inane, I see this film as less inane although less technically gifted than your average Hollywood flick. In particular, characters are believable, situations are believable, and the plot — once you get past the somewhat handicapped device — moves forward enough to compel an urge to witness its conclusion.
In addition, there is a death metal angle: Relapse Records allowed use of what looks like its full catalog, so bands as diverse as Incantation, Pyogenesis, Winter, Disembowelment and Brutality play in the background in scenes that are half-MTV and the rest a zombie film designed to be watched through a bong while chatting with friends. The music angle in both plot and background is not meant to be convincing, but enjoyable, and seeing familiar tropes from death metal bands in the characters, as well as having what was probably the only "real" chance death metal had at having videos back in the day is gratifying. There is no way to construe this film as competitive with professional efforts, but the grim fact is that it is arguably less dumb and more compelling than what the big studios dump arrogantly on our numbed brains.
Tags: bill dewild, comedy, death metal zombies, horror film, jason lee cook, lisa cook