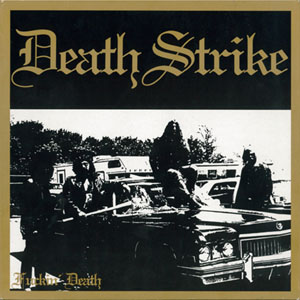 Death Strike – Fuckin' Death (Re-Issue)
Like a glass-bottomed boat sailing over the submerged remains of an ancient city, this re-issue lets us voyeurs peer into the past of death metal. Master/Deathstrike/Abomination represented one wing of the early hybrids, sounding more like the aggressive uptempo hardcore of the early 1980s as crossed with the attitude that had been consisten in metal since its earliest days.
To wit: a straightforward absence of quirky changes, an emphasis on cadence instead of alternating syncopation, a historical view of the world that subsumed politics to a whole view of the human experience, and songs made by fitting riffs together in an internal dialogue that not only kept the song coherent but propelled it forward. These distinguish Death Strike as well, which packs them into punch songs of high-intensity fast tremolo punk riffs.
Our original review of this Death Strike masterpiece still stands. Like its associated band Master, Death Strike represents an early form of death metal that was nearly contemporaneous with Slayer-influenced bands like Sepultura and Possessed, as well as European-style proto-death/proto-black bands like Bathory, Hellhammer and Slayer. All of these re-interpreted punk hardcore in metal a different way than thrash (DRI) had done, and as a result, achieved a unique sound that was later highly influential to scenes as diverse as Sweden and New York.
The re-issue is beautiful. Quality pressing, good photos, elegant disc. The inclusion of demo tracks is always dubious, since you get more primitive versions of what you just heard, providing only academic interest; it's better to release a historical issue like Immolation did. However, in this case, the rehearsal of "Pay to Die" is truly worth hearing to see how far this band came in the early 1980s.
Seeing this classic ride again in general availability is a sight for sore eyes for any true old school metal fan. If you want to know the origins of this music, pick up this CD and explore the first releases of the other bands mentioned above. While the know-nothing music press trumpets Venom, it's good to see that contemporary acts were exploring other avenues for metal with the power of hardcore punk, and from this fertile ferment, death metal was born.