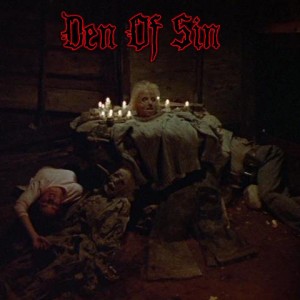 The metal/hard rock tyrants in Den of Sin unleash their demo Raid Your Soul With Cutthroat Rock N Roll via online stream in a style of old school metal that owes the most to NWOBHM and American hard rock, but also incorporates punk and speed metal riffs.
Composed of members from other bands, Den of Sin claims to be influenced by Motorhead, The Runaways, Girl School, Saxon, Krokus, Acid, Venom, Warlock, and AC/DC, and it shows in the sound. Rushing energetic verse riffs run into swiftly falling choruses underneath the energetic vocals of LiLi Le Bullet.
The band is rounded out by Chris G. Mezzadurus (Goreaphobia) on guitar and Jim Roe (Incantation) on drums, with Robin Mazen taking on bass duties. All members are remaining active in their respective bands but continuing Den of Sin as a side project.
Raid Your Soul With Cutthroat Rock N Roll aims for the days when metal and hard rock were less serious, more about having a good time, and also gave people a sense of musical aptitude without the pretense. Merging punk rhythms, metal riffs and hard rock attitude, Den of Sin invokes those older times in a new age.
For more information, watch this band on Facebook.
Tags: den of sin, goreaphobia, incantation