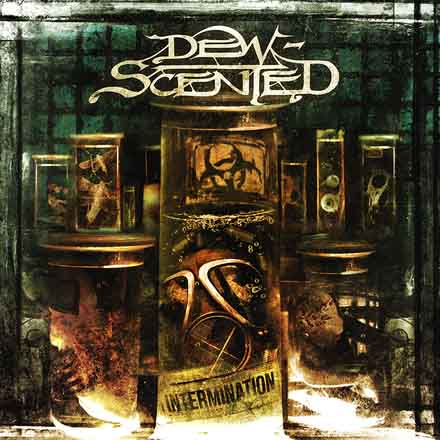 German metalcore band Dew-Scented will release their tenth album, "Intermination," on June 30 in North America via Prosthetic Records.
Vocalist Leif Jensen says, 
'Affect Gravity' is probably a bit of an unusual track for Dew-Scented and not only because of the talkbox at the beginning. It's got quite some melodic riffing and a very dark twist, but it's always dynamic and heavy. It turned out to be one of my personal faves on the album and I look forward to playing it live too!
Drummer Koen Herfst added,
I tried to really emphasize the aggressiveness of the song by playing pretty much straightforward and really loud in the parts that ask for it. I love the way the toms turned out in the mix, which makes the parts that lead into the verses really heavy. Halfway through the song I do a groove inspired by Derek Roddy, which is basically a blast-beat on my second snare combined with a back beat on my main snare. After that I do a really heavy and basic groove which breaks things open in the guitar solo.
https://soundcloud.com/prosthetic-records/dew-scented-affect-gravity/s-bl5Zm
Tags: 2015, Dew-Scented, metalcore, new track, stream