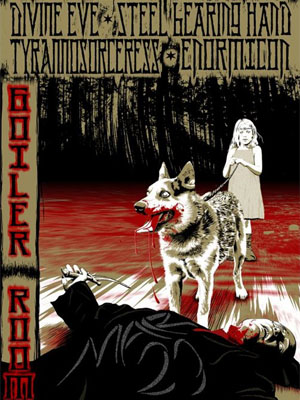 We were fortunate enough to hear a preview of the new 2012 album from Texas doom/death occult conjurers DIVINE EVE. The result is resonantly good: further developing the sounds of their last EP, Vengeful and Obstinate, the band have filtered their classic material through its own influences and brought out a stronger, clearer version.
In particular, the bulk of the material heard here are classic CELTIC FROST-style droning verse passages. These are complex and follow the rhythms of the lyrics with several variations. Even when uptempo riffs, reminiscent of CIANIDE, carve their way into each passage, the overall mood of a pervasive and inexorable doom is maintained. On top of this the band pile dark choruses straight off an early CATHEDRAL record and exchanges of death metal riffs that give meat and density to each song, and PARADISE LOST-style lead melodic riffing that drapes each song in an aura of mystery and potential.
What makes this material more advanced than past DIVINE EVE is its consistency. Each part relates to every other part, no matter how simply. There is no extraneous material, or riffs fumbling around for a place in a stream of similar riffs, which gives these tracks more of the early metal feel of NWOBHM or 1980s doom metal. Some of the pacing has a NYHC feel as well, which when played against the CELTIC FROST-style trudging riffs gives the material an almost industrial but apocalyptic and mystical feel. From the sound of this preview, the DIVINE EVE album for 2012 will be a crushing odyssey of doom/death metal.
Tags: crimson relic, divine eve