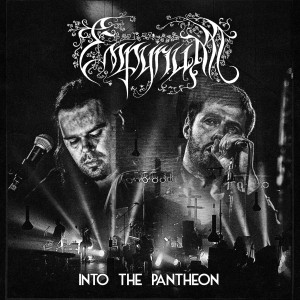 Empyrium have cross-bred funeral doom, folk/power metal and 1980s Gothic synthpop but have removed the electronic sounds, producing an organic take on the nascent Romanticism in the modern spirit. This is music for return to the forest, but in a less aggressive form than Ildjarn or Burzum; it's on the level that power metal fans and even Nine Inch Nails listeners can appreciate.
Into the Pantheon is a live concert in which this reclusive and only sporadically active band picks its most forest-friendly tracks and plays them in a single unified format. With production thus level between them, Into the Pantheon serves as both greatest hits and a modernization of their classic sound.
What is great about Empyrium is how well it meshes. Vocals are dramatic and funereal in the way that Sisters of Mercy and Fad Gadget made famous, but are accompanied by light orchestration and minimal percussion, with acoustic guitars taking the lead. At crucial points however, the full power of the fulminant distorted guitars take over and create a surge of energy but unlike rage, this is directed at a dark and melancholy place like a contemplative forest walk in twilight.
Empyrium win fans over through their musicality and a vision of doom metal that is tasteful and elegant. Unlike Candlemass, vocals do not dominate the music but appear as a complementary effect; unlike more modern doom bands, guitars are not over-active or musically flashy. Instead, here there is the art of classic songwriting, on a subdued pace that emphasizes beauty emerging from within in the clash of darkness and light.
Where a funeral doom band like Skepticism overwhelms with a poignant morbidity, Empyrium is more like the music which has traditionally emerged from popular off-mainstream European artists. It's heartily personal and heavily emotional, but could easily transition from this genre to an acoustic performance in a pub near a lost mountain path, or in the court of a king. It has an eternal character to it underneath the modern genrification.
Empyrium has not given many public concerts, and we are told that this 2011 recording represents the return of the band to active life. Hearing how emotional and yet violently lusting for life these anthems are, it makes sense to want this band to continue with its renovation of metal. Not all will take this path, but its outlook can be infectious, and improves on the three-notes-to-rage formula that mainstream forces wish it would take.
Tags: dark metal, Doom Metal, empyrium, funeral doom