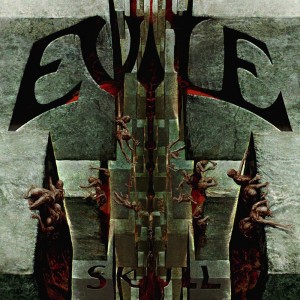 In the year 2013, most good (and bad) metal ideas have already been executed – genre boundaries have been clearly defined, and each has its long list of heroes. Bands striving to create in this age are faced with a choice: do they stay with what is firmly established or do they attempt to find what little unexplored ground remains? British speed metal band Evile has decided to take the former approach, with mixed but mostly positive results.
Throughout the course of this album, the band attempts to survey the history of speed metal from its more occult origins, to the current stage of secular nu-metal influenced syncopated riffage. Touches of other genres make their presence felt: echoes of death metal are heard in some of the riff structures, and hard rock make its presence known in some of the chorus harmonies. The merging of these diverse takes on the genre would be rendered incompatible by many contemporary bands, but Evile manages to pull it off well.
Although its composition may be sound, it's hard to identify the soul of the album. There isn't anything individually exciting about it, yet its skill in composition of the whole makes it stand out from the crowd. Fans who are searching for the next great innovation are encouraged to look elsewhere, but for those that are just looking for a speed metal album with good tunes, it is worth investigating.
Tags: evile, Speed Metal