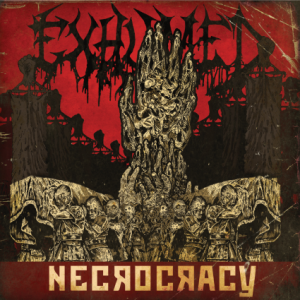 Exhumed, the band that combined up-beat Swedish death like later Fleshcrawl with the crepitant grind of Carcass but gave it the bounce of more punk-oriented grindcore bands, has returned from the dead and unleashed Necrocracy, an infectiously catchy but hard-hitting slab of recreational grind that should keep listeners in motion.
Following an early career of more grind-influenced music, the band began to see the possibilities in more energetic and listenable ventures, and so began to mix enthusiastic heavy metal into the grind and then blur the grindcore technique with a fair amount of death metal. Like many revival movements, this aims to put a modern superstructure into the aesthetics of the past.
Necrocracy represents the kind of thrill that came with later Ministry albums. Speed, excess and unflagging energy combined to make a record that could both motivate you to drive 120 mph down a lonely road, or socialize with friends while shouting lyrics about masticating corpses. The band kicks off a US tour this October.
EXHUMED w/ Dying Fetus
| | | |
| --- | --- | --- |
| | | |
| 10/04/ | Mojo 13 | Wilmington, DE |
| 10/05/ | The Soapbox | Wilmington, NC |
| 10/06/ | Back Booth | Orlando, FL |
| 10/07/ | The Orpheum | Tampa, FL |
| 10/09/ | Fitzgerald's | Houston, TX |
| 10/10/ | Red 7 | Austin, TX |
| 10/11/ | Trees | Dallas, TX |
| 10/12/ | Chameleon Room | Oklahoma City, OK |
| 10/13/ | Warehouse 21 | Santa Fe, NM |
| 10/14/ | Rocky Point | Tempe, AZ |
| 10/15/ | Observatory | Santa Ana, CA |
| 10/16/ | The Whisky | W. Hollywood, CA |
| 10/17/ | DNA Lounge | San Francisco, CA |
| 10/18/ | Branx | Portland, OR |
| 10/19/ | Studio Seven | Seattle, WA |
| 10/20/ | Rickshaw Theater | Vancouver, BC |
| 10/22/ | Republik | Calgary, AB |
| 10/23/ | Pawn Shop | Edmonton, AB |
| 10/24/ | Riddell Centre | Regina, SK |
| 10/25/ | Park Theater | Winnipeg, MB |
| 10/26/ | Station-4 | St Paul, MN |
| 10/27/ | Reggie's | Chicago, IL |
| 10/29/ | Peabodys | Cleveland, OH |
| 10/30/ | Chance Theater | Poughkeepsie, NY |
| 10/31/ | Palladium | Worcester, MA |
| 11/01/ | Gramercy Theater | New York, NY |
| 11/02/ | Empire | Springfield, VA |