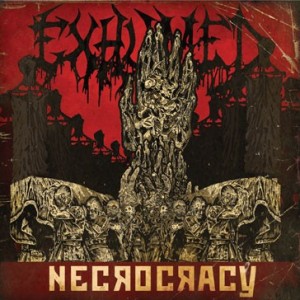 Hitting upon the fortunate idea to mix early death metal and the early years of Carcass, then kick up the tempo and work in some melody in the style the Swedes pioneered, Exhumed found a language through which they could make what they really wanted to create, which as Motorhead-style roadhouse tunes.
Having returned from a lengthy sabbatical, Exhumed gets ready to unleash Necrocracy, which can be pre-ordered here. Commented Matt Harvey, vocalist and gutslinger, "We're super pumped that 2013 will see the release of Necrocracy. We think it's our heaviest record to date and we can't wait to start playing the new tunes on the road. The album is a bit hookier and meatier than All Guts… and we hope all you maniacs enjoy it."
Necrocracy "stinks like the rotting flesh of a nation waiting for revolution," says the press release on this album, which pretty much describes the mood in America at this point. If it's anything like the past releases from this band, it will be workmanlike and surprisingly internally similar but not so that you'd notice, since like Motorhead tunes, songs rotate around a simple melody and rhythm and are remarkably convincing at that.