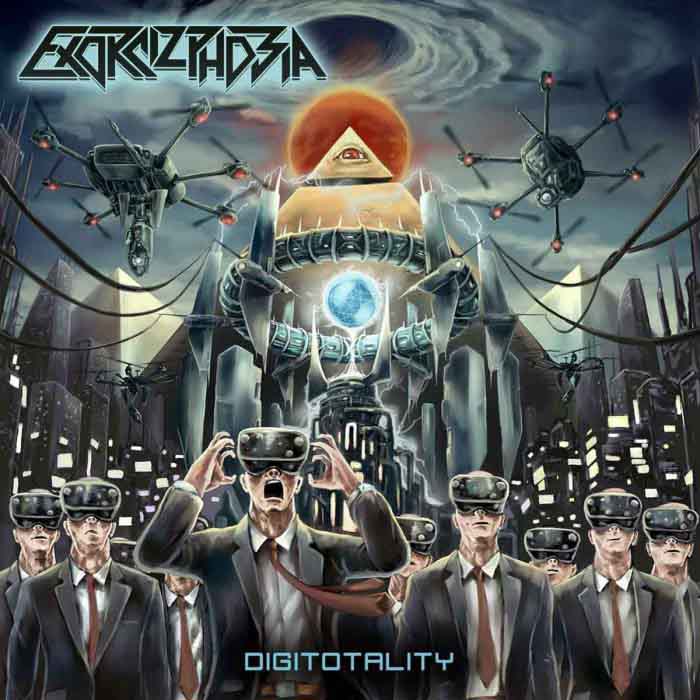 When a genre fails, its heroes dies as martyrs, their glory never dimmed by the entropy of time in which mistakes must be made and meaning slowly erodes through too many individualistic interpretations, revealing the weaknesses of individuals. When a genre succeeds? It labors in the shadow of the past.
Some ago, I observed:
Age 16: more speed metal!
Current: ugh, more speed metal
Most of metal has gone back to classic styles because they work and, just like an episode of your favorite Mike Rowe or Bob Vila show, it is fun to take something old and update it without losing the continuity of spirit to its origins.
Digitotality pays homage to the influences of this band — Sacred Reich, Exodus, Testament, Nuclear Assault, Voivod, and DRI mostly — which lets it take on the second generation of speed metal that went past what Metallica did to be a genre really removed from rock but keeping its energy. On top of this, they layer Queensrÿche and Saint Vitus style sung vocals.
This approach works better than that of recent bands who keep trying to work death metal, deathcore, and progressive metal into their speed metal, since that requires them to break the constant energy for divergent and often unrelated riff salads.
Exorcizphobia keep to what they know, keep quality and intensity high, and build enough internal contrast to keep interest, allowing the ear-pleasing vocals to serve a subordinate role while songs build themselves from the clash between two good riffs and some additional commentary.
Tags: exorcizphobia, Speed Metal