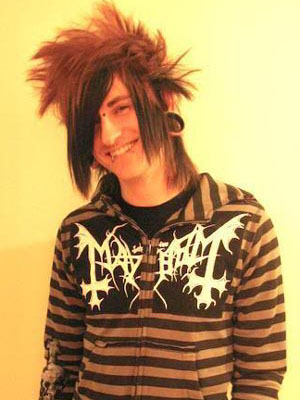 With lyrical themes of suicide, drugs, and aimless misanthropy on one side, and kumbaya-esque sensibilities on the other, record labels have figured out a way to sell more metal-flavored products to mainstream alt-rock America: make alt-rock that superficially "sounds like" black metal.
Don't worry; it's not dangerous. These songs are still the same rock chord progressions we've always heard on the radio. The latest new trend formed by burnt out metal musicians who are too inept to fully sell out is to play another genre of music and wrap it in the aesthetic of another. You would think people are smart enough to figure out Nachtmystium is nothing more than Joy Division with raspy vocals or that Liturgy is failed 'avant-garde' post-rock dressed up as black metal (much like Solefald), but when marketing dollars and ads are at work, that is unfortunately never the case. Real metalheads know this is false metal, only appearing like metal, but to the American Apparel wearing alt-rock fans who buy Pitchfork magazine and Kerrang for the next bandwagon to hop on, it's a new fashion statement or lifestyle option. It's something 'new' they can belong to.
Black metal has been absorbed into the melange of the current 'post-metal' trend, inspiring new 'artists' to create their own rearrangement of pop music under the guise of black metal with no knowledge over it's history, music, or having any idea about the expression of the music. Falloch, a new band from Glasgow, Scotland, may just be the final word on how awful, poppy, and warped this music associated with black metal has become.
Sounding much like a skinny jeans wearings Ulver shopping at Walmart for Thursday cds, Falloch further destroys the metal ethos much further than the later output from Katatonia or Paradise Lost could have ever hoped for. The emo crooning and the open chord strumming which is suggestive of a depressive hippie get together is all there, but watch out! There is a rasp or inappropriately fast drums at times in there to appear different, unique, whatever. The themes of sadness and lost love is there, and when you wrap this all up in a package whose cover art seems to portray a "this world is lonely, pity time!" aesthetic to AFI fans, you have a winner.
What's most unfortunate is that Candlelight, a label who once released albums like Dethrone the Son of God has released this. So a once former niche hipster trend that no record label worth their salt would touch has now become a money maker that you can ship off to Terrorizer or Metal Maniacs for promotion in a big way. While some bands are able to mimic black metal better than others, Falloch fails to do even that properly, only using the genres recent popularity to cover up fractures in their pop songwriting and overextending very simple songs for the sake of coming off as 'different' when in fact it's no more different than this.
Falloch is just another tool in the machine of corporate labels' bid to assimilate itself further into the mainstream music scene. No doubt documentaries like Metal Evolution, Until the Light Takes Us, and Promised Land of Heavy Metal being shown on VH1 or Sundance had a hand in it falling to the hands of Starbucks culture, but even those documentaries have clear cut examples on what the music is all about, showcasing real black metal:
http://www.youtube.com/watch?v=_0jyfbgyfjM
http://www.youtube.com/watch?v=VfYJu9t9hhs
Instead we have people who have consciously decided to make "black metal" that isn't black metal, and claim it's an "evolution" when in fact it's a regression to what existed before black metal, because they hate their fans and think they're stupid, and want to make some money off of them instead of treating them like human beings. It's hard to argue against ripping off any group of people stupid enough to think this is black metal, but it's also unethical and guarantees we'll get more of this milktoast, lukewarm, baby-soft "black metal" flavored alt-rock.