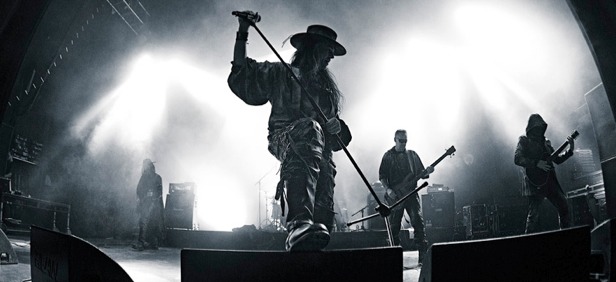 Gothic rock band Fields Of The Nephilim are famous for their ability to mix the industrial-dance edge of underground goth music with the driving guitars of punk and rock. On their newest release, Prophecy, the band go in a new direction — one that will be familiar to metal fans.
The title track "Prophecy" features driving Motorhead/Blitzkrieg style guitars and a series of NWOBHM riff patterns paired with death metal vocals, accompanied by a rhythm section that sounds like it ventured off a recent Killing Joke album. The result uses the death vocals sparsely for maximum effect, and preserves the Romantic but pessimistic Gothic feel, and also captures the positive and uncompromising attitude of heavy metal.
As the years fall past the end of black metal in 1994 or so, it becomes clear that the rock experiment reached its ultimate point in that genre, which both rejected rock and made rock-like music which combined the extremist promise of hardcore punk with the epic wanderlust and melancholic nihilism of underground metal. Rock could not compete, and since that time the genre has been enmeshed in recombination of its parts and past influences.
Fields Of The Nephilim take that recombination further but as with all innovators, adapt the influences to an overall goal instead of constructing the goal from the influences and creating chaos through contradictory elements. This brings popular music into a new era where it is both underground and in plain sight, excluding those who cannot understand through musical and artistic conventions that defy the convenience-oriented mind.
Tags: Fields Of The Nephilim, gothic, Gothic industrial, gothic metal, Gothic rock