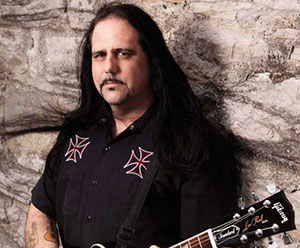 Mike Scaccia and his mates in Rigor Mortis finished recording a full album before Scaccia passed away on December 22 last year. The day before, Scaccia and engineer Kerry Crafton did some initial work on mixing the album entitled Slaves to the Grave which will be the last from the band.
Of its quality Crafton says:
This record is amazing. Mike, Bruce Corbitt, Harden Harrison and Casey Orr all performed brilliantly in the recording and I believe they all did the best work of their lives. […] The depth and breadth of the material is really awesome.
While it's difficult for the rest of us to estimate how well Rigor Mortis as a band hold up musically these days (the band's last full-length was released more than two decades ago), Scaccia's legacy has more than sentimental value.
Slaves to the Grave will be released sometime during summer 2013.
Tags: mike scaccia, new releases, rigor mortis