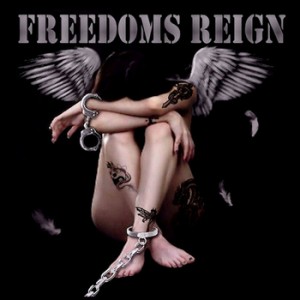 On the 29th anniversary of Fates Warning's classic debut album, Night on Bröcken, original guitarist and founding member Victor Arduini releases the debut of his new band, Freedoms Reign.

Known for intricate arrangements and the type of speed metal, progressive metal, American heavy metal and power metal mixture that has delighted audiences around the globe and continues to be the mainstay of most bands that make it big, regardless of surface genre or marketing names. This style provides maximum musicality with enough speed thrills to keep people engaged, but without allowing songwriting to be absorbed in technique or intensity.
Freedoms Reign retains Arduini's "original, charismatic and unmistakable" style of playing guitar and injects into American style high-energy heavy metal a classic Ozzy/Black Sabbath flavor. If it is consistent with his work in Fates Warning, expect an underlying melodic basis to the music much as in Mercyful Fate, but this will be understyled and emerge in either vocals or guitar but not aim for the harmonic effects of European bands as frequently.
Besides Arduini (guitar/vocals) , FREEDOM'S REIGN also consists of Tommy Vumback (Guitars), Michael Jones (Bass) and Chris Judge (Drums). Freedoms Reign was recorded in Dexters Lab Recording in Milford, Connecticut with Nick Belmore (TOXIC HOLOCAUST) and will be released on iconic heavy metal label Cruz Del Sur Records.
The label is taking pre-orders now at this location.
Tags: american heavy metal, fates warning, freedoms reign, Heavy Metal, power metal