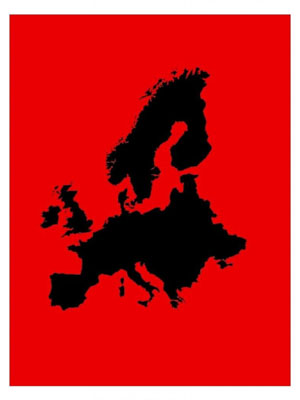 FORTRESS EUROPE (The Big Shiny Prison Vol II)' is the sequel to 2009's 'THE BIG SHINY PRISON (Volume One)' and chronicles the authors journey through the European Counterculture in 2011.
This is a nonfiction road book/music journalism expose which defies all conventions, existing in the territory of Jack Kerouac's 'On The Road,' Henry Miller's 'Tropic of Cancer' and Hunter S. Thompson's "Fear & Loathing In Las Vegas.' This modern version of such writing follows author Ryan Bartek as he reveals a postmodern, dystopian vision of the European counterculture while interviewing a number of living legends face to face and drudging through the gutters of society.
'FORTRESS EUROPE (The Big Shiny Prison Vol. II)' covers all forms of extreme metal, punk rock, industrial, experimental, rock & electronic and features appearances/interviews with members of Brutal Truth, Master, Agathocles, Wolfbrigade, Rotting Christ, Killing Joke, Funeral Winds, Nahemah, Enochian Crescent, Moonsorrow, LAIBACH, Defeated Sanity, First Blood, Hello Bastards, Abortion, Panthiest, Arkangel, HATE, Repulsione, Dehuman, General Surgery, Corpus Christii, Fides Inversa, Excavated, Primordial, Splitter, Pyramido, Black Breath, Ingurgitating Oblivion, El Schlong, Spacemen 3 & legendary Detroit writer/60's radical John Sinclair and more.
Interview with the author on Berlin TV: