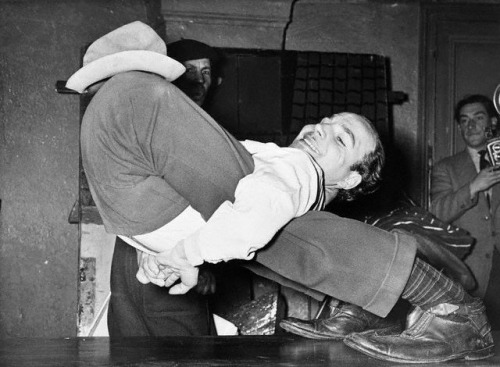 Originally, the "no platform" idea was that when outright neo-Nazi bands scheduled a concert, people would protest and the venues would stop supporting them. While I find this dubious and believe it will backfire against its original intent, it was at least clear and limited to stopping undesired expression.
Now we see that it becomes: forcing all bands to have the "right" opinion if they want to perform. As the Times of Israel writes, a performer is being censored for not being pro-Palestine:
Festival organizers were driven by intense pressure from the Boycott, Divestment and Sanctions (BDS) movement, the reports said. Artists scheduled to perform at the event threatened to cancel their appearances if Matisyahu were to perform because he was "seen to represent Israel."

The organizers gave Matisyahu an ultimatum, telling him if he would "sign such a declaration [publicly affirming his support for the Palestinians, he] can perform," according to Spanish daily, El Pais.
Now, I know that people on the internet can get feisty about Israel and/or Jews, but I view this as a mistaken notion. Oddly, what I used to hear coming from the far-right I now hear coming from the middle-left, which is the usual smattering of fears that Jews somehow control the world or are responsible for its downfall. Back in reality, Jews are a small minority that — while disproportionately successful in science, the arts, entertainment and business — act in their own interests which seem to be personal in nature rather than The Protocols of the Elders of Zion-style conspiracy takeover of Earth. It is beyond this article to comment on Israel-vs-Palestine except to say that it is clear that the two populations seem incompatible with one another.
From that point, we can actually discuss the issue. But that is not what SJWs — who are all liberal and should know better as presumed defenders of individual rights, including speech — want us to do. They want discussion to end and only one viewpoint to be heard, which is that of a pro-Palestine anti-Israel outlook. What happened to Matisyahu crosses the line into anti-Semitism. He is not known for a pro-Israel position, nor has he offered one. But he is Jewish… and he performed in Israel… which is enough for his critics to equate "Jewish" with "pro-Israel" and demand he speak out in the issue in agreement with them, even if he has either a contrary viewpoint or any of a number of differing views. It is unclear whether he has any political views at all.
Censorship forms a slippery slope. At first, it is designed to eliminate ideas associated with known social harms, like violence and pedophilia. No one will stand up for those people, so the next generation aims at a broader target. Eventually, it becomes what we see it is now, which is "Agree with us or you will be silenced." If you want to know what keeps me and other anti-censorship activists going, even if it means speaking up for icky people from 4chan or Reddit, it is that we know how censorship expands from known ills to failure to agree, and we want to stop that process before it starts.
Tags: censorship, gamergate, Israel, matisyahu, metalgate, palestine, Spain