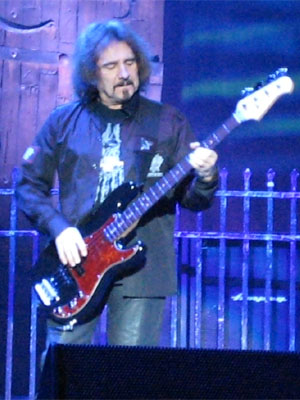 Black Sabbath bassist Geezer Butler threw his support behind PETA's campaign against Foie Gras, a fatty liver paté made by force-feeding ducks and geese.
"I'm not afraid to make some noise, especially when it comes to issues of cruelty to animals," said Mr. Butler in a press release supporting the animal rights group and calling on UK grocery Fortnum & Mason to cease selling the delicacy.
This is not the first time that metal musicians have stood up for nature. In addition to all of black metal, which praises nature over humanity and expresses disdain for human ecocidal practices, metal has endorsed care for animals and avoidance of ecocide through many songs and albums over the years. A few highlights:
Testament – "Environmental Holocaust," "Nobody's Fault" (Aerosmith cover), "Greenhouse Effect"
Nuclear Assault – "Game Over"
DRI – "I Want My Taxes Back"
Obituary – World Demise
This is in addition to many songs about nuclear war, the shallowness of humanity, the endless race for consumer products and self-importance, and many songs in praise of nature and the natural, including its "scary" attributes like disease, predation and violence.
Foie Gras (pronounced PHUA GRA), according to StopForceFeeding.org, is created by the following charming process:
Two to three times a day, a worker grabs each bird, shoves a long, thick metal tube all the way down his throat, and an air pump shoots up to two pounds of corn mush into his esophagus. The industry always refers to the dry weight of the feed, which is about one pound per feeding. Adding oil and water doubles this weight, making it 20-30% of the bird's healthy body weight. Picture 30 one pound boxes of dry pasta and then add water. This is proportionally how much a 150 pound human would be force fed using this formula.

A duck's liver naturally weighs around 50 grams. However, to qualify as foie gras, the industry's own regulations require ducks' livers to weigh an absolute minimum of 300 grams.

The vast amounts of feed pumped down the ducks' throats causes enormous internal pressure, and the pipe sometimes punctures the esophagus, causing many to die from choking on the blood that fills their lungs. Some birds literally burst, choke to death on their own vomit, or become so weak that they are unable to fend off rats from eating them alive.
This description sounds like something straight out of a Carcass song, or an apocalyptic death metal anthem. It even reminds us of Quorthon's warning about the Ragnarok lurking inside of modern society:
In this age of utter madness
We maintain we are in control
And ending life before deliverance
While countries are both bought and sold

Holy writtings hokus-pokus
Blaze of glory and crucifix
Prepried costly credit salvations
TV-preachers and dirty tricks

Don't trust nobody
It will cost you much too much
Beware of the dagger
It caress you at first touch
O, all small creatures
It is the twilight if the gods
While most people seem to focus on how annoying PETA is presumed to be, we're going to focus on the metal angle: death is real, and failure is real, and most people are in denial of both. It's easy to ignore the consequences of our actions and instead live in a bubble world of happy thoughts, advertising, political speeches and documentaries.
In reality, what we do has consequences and for these small creatures, those are very real. We should consider what being aware of these cruelties and doing nothing about them does to our souls, because ultimately, we all must face the reaper and have him sit in judgment over us — even if only in our own minds.