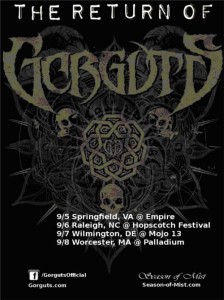 The might Gorguts, who added atmosphere to thunderous Florida-style death metal before deviating into labyrithine riff progressive death metal on Obscura and From Wisdom to Hate, and then fading into obscurity with only one resurrecting as modern metalcore band Negativa, plan to return on September 3 with a new album entitled Colored Sands and a tour to follow.
If you don't hear the heavy metal world pounding on the door to demand to hear it, here is why: the name is obviously of the type that is used by modern metal bands, including metalcore and "progressive metal" that is mostly indie with some progressive and very little metal, and thus, it's unlikely that we're going to get Considered Dead II, or even Obscura II. In fact, what it sounds like we are going to get is another modern metal album that, because it has abandoned what it is to be metal in spirit and composition, is a diverse collage of bits in the modern style, which means a giant indecisive waffle that leaves you feeling empty after consumption.
As the staff optimist here at DeathMetal.org, I am hoping otherwise, and putting my trust in Luc Lemay and team's solid record in the past. However, the team is entirely different now, except for Lemay. Kevin Hufnagel (Dysrhythmia) is on rhythm guitars, Colin Marston (Behold… The Arctopus, Dysrhythmia) on bass and John Longstreth (Origin, Angelcorpse) on drums. This also makes metalheads uneasy, because no matter how much they "love true metal," Marston and Hufnagel are from a hipster metalcore band.
Still, we preserve optimism. The hope is that Gorguts will make something interesting. That excludes technical metalcore. I would rather they released a rockabilly record that join the stupid and horrible trend of mixing Fugazi, frenetic 1970s jazz fusion, and a few metal riffs and calling it "innovation" when by definition it's a recycling of past ideas. Time will tell, and we can only hope that Gorguts rise above the pack yet again and bring us a vision of something profound instead of something compliant.