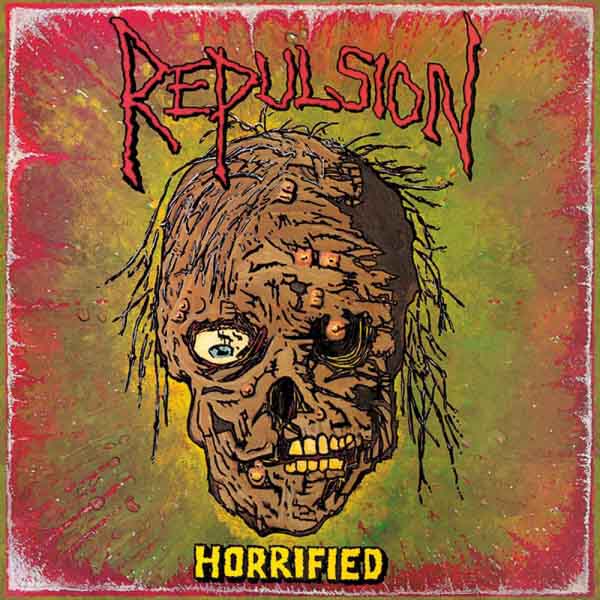 Very few people have any idea what grindcore means at this point because of the high degree of crossover between grindcore and death metal. Not just one way, but both: grind bands becoming deathy in the Napalm Death style, and death metal bands becoming grindy as happened from Suffocation onward.
But what wasgrindcore? History might show us that punk and metal were birthed in the early 1970s and spend the next three decades crossing over. This resembles a quarter-century negotiation as to what aspects of each to keep in the hybrid with the other. Early hybrids included speed metal, which used uptempo punk rhythms, and thrash, which combined metal riffs with punk songs. Grindcore was a logical extension of thrash.
Thrash — exemplified by Dirty Rotten Imbeciles, Cryptic Slaughter and Corrosion of Conformity — grew out of the "thrasher" community which was composed of skateboarders. These were a 1980s movement that existed in the abandoned areas of modern cities where skating was undetected if not permissible. Anarchistic, but also pragmatist, they were like the ultimate hybrid between the individualistic and hierarchical impulses behind human politics. Thrash bands as a result tended to direct their criticism toward society itself and were less likely to hover on one side of the political spectrum or the other, despite having a huge background influence by the almost-universally anarchist punk movement. We can only assume the additional influences on thrash came from metal, which was more likely to take a historical and impersonal view of life, where punk was much more personal and present-tense.
Where the bands that prompted the early speed metal and thrash hybrids were punk hardcore (The Exploited, Cro-Mags, Black Flag, Minor Threat, GBH) and early crustcore (Discharge, Amebix) bands, thrash in turn spurred hardcore on to become faster and more extreme, resulting in shorter songs with more metal-like (more chord changes, more internal texture) riffs. The later punk hardcore bands like Void, Faith and Siege prompted a gnarlier sound, picking up on the distorted vocals which has become a staple of the previous punk generation, perhaps prompted by Motorhead and Lemmy Kilmister's incomprehensible gargled-glass screaming.
From this inspiration, a movement caught on in the late mid-1980s. Fronted by bands like Repulsion and Napalm Death, it quickly diversified and spread worldwide. However, like punk before it, grindcore did not have much staying power. The more one streamlines and simplifies, the fewer variations exist, until most things can be described as a modification to an archetype. At that point, bands lose the ability to distinguish themselves and thus realize their talents are better applied elsewhere if they wish to distinguish themselves. Nevertheless, between 1986 and 1990 the foundational masters of grindcore emerged in the form of Repulsion (1984), Napalm Death (1985), Terrorizer (1989), Blood (1989) and Carbonized (1990).
http://www.youtube.com/watch?v=5r83Ox0-GFk
http://www.youtube.com/watch?v=323jnOT-SSo
Tags: blood, Carbonized, carcass, corrosion of conformity, cryptic slaughter, dirty rotten imbeciles, Grindcore, napalm death, repulsion, siege, skateboard, terrorizer, Thrash, thrasher