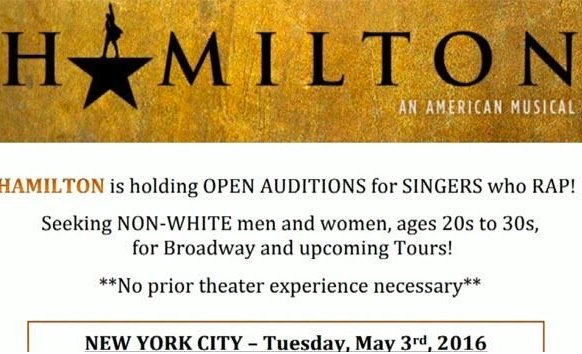 The mostly wealthy, leftist audience of Broadway's modern day minstrel show Hamilton booed United States Vice President elect Mike Pence as his family took his seats. Afterwards the cast read him message calling for him to respect the rights of all diverse Americans stating:
I see you walking out but I hope you will hear us. There's nothing to boo here, we're all sharing a story of love. We are the diverse America who are alarmed and anxious that your new administration will not protect us, our planet, our children, our parents, or defend us and uphold our inalienable rights, sir. But we truly hope this show has inspired you to uphold our American values, and work on behalf of all of us.
Asking Pence to respect America's racial diversity was incredibly hypocritical for the cast and crew of a show that violated anti-discrimination laws by openly excluding whites, only casting one as the musical's villain, King George III. The left accepts effeminate Hispanics playing white men speaking like black rappers but if heterosexual European males played homosexual black men singling like a Mexican mariachi band, then the left would call for their deaths. Modern liberals would issue a fatwa against ¡Three Amigos!. Unlike the typical "gulags and guillotines" leftists, Mike Pence said the cast had a right to say what they wanted.
Tags: hamilton, hypocrisy, racism, sjws, social justice warriors, socialists