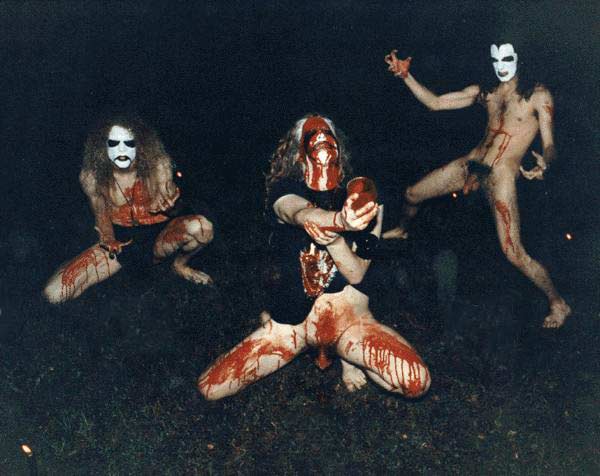 The conventional media narrative regarding heavy metal is that heavy metal is the music of adolescent rebellion. Like the Puritan attitude toward sex, this double-faced approach allows media to both trivialize metal and use it as the basis of product branding, or the identification by consumers of the product with an attitude or social group. This attitude reflects the needs of the media more than what heavy metal actually is.
In branding, metal joins a cluster of products like Jack Daniel's whisky, Marlboro cigarettes, Harley-Davidson motorcycles and other products that are used in mass culture films, books and music to symbolize rebellion. Much as the media sells sex ambivalently, rebellion is also sold as a duality: it is portrayed as bad, yet fun, and so often the compromise is to avoid it on a regular basis but to cut loose on weekends. Smart observers might realize that's a great method of control, because by "capturing" the impulse toward anarchy and controlling it, you keep the workers showing up regularly every weekday. Similarly, it's good advertising because it implies a safe rebellion: the rebellion is there, but it's a product you can buy anywhere, so it's socially approved and thus there are no real consequences to face.
But what about those who are dissidents? These see our society as going the wrong way entirely and refuse to participate. Much of this infuses metal through the people it attracts, who are either drop-outs or cutting-edge dissidents, depending on who you ask. As Jeremy Wallach reveals in a post to the Music, Metal and Politics mailing list:
The notion that metal is a cause or a symptom of adolescent psychological development gone awry has been roundly criticized for the last 20+ years not only for its practically nonexistent empirical justification, but more importantly. for its unstated ideological assumptions. Too often the "problem" turned out to be insufficient socialization–of working-class kids who refused to be docile, obedient, and unquestioning, and of middle-class kids who refused to be conformist and hardworking. But rock and roll kids have always been, in Simon Frith's words, working-class kids who reject work and middle-class kids who reject success.
Zoom in on this: working-class kids who refused to be docile, obedient, and unquestioning, and of middle-class kids who refused to be conformist and hardworking.
In other words, if your parents were expected to work as entirely subservient to the system, you reject that subservience; if your parents were expected to lead within the system, you reject the attitude that allows them to do that without questioning the system.
What we're seeing here is not rebellion, or disagreement with method, but rejection. These are people rejecting civilization as it is so constituted. This started with Black Sabbath rejecting the idea of "peace, love and happiness" — a once-removed proxy for egalitarianism and coexistence — peaked in speed metal's warnings of nuclear war and apocalypse, and finally in death and black metal saw acceptance of the apocalypse and subversion of its methods of control and emotional passivity, respectively.
Heavy metal does not tell society that its methods are wrong, but that its approach is wrong. We are those who dream of a different world… one where intangible values triumph over those that are material, social, economic or political. Different generations of heavy metal reflect this dream differently and few seem to be able to articulate it, but it remains beneath the surface, peeking out periodically like divinity in an avatar, hinting at the invisible narrative pervading what we know as "normal" life.
Tags: Heavy Metal, metal theory