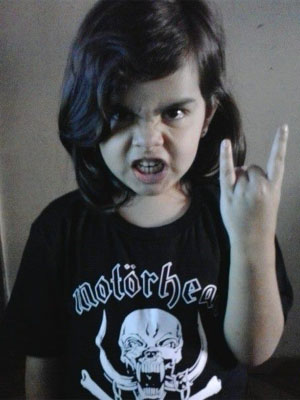 Here's the fundamental problem with metal: it's outsider music. We don't play by the socially mediated rules that control most of society.
In our society, in particular, these rules are created and enforced through self-image. Want to appear to be a good person? Follow the rules. When you step outside of that, two problems occur.
First, the rest of the herd doesn't trust you. Second, the people around you may be drawn to you not because of what you do, but because they want no rules. Those who object to some rules join those who reject all rules.
However, this means that you're valuable. Because you don't obey the rules, and because rules produce resentments, people want to take what you have and use it for their own purposes.
Specifically, they're either going to use you as an example of what goes wrong when you don't follow the rules (subtext: follow the rules, citizen) or they're going to try to use your "cachet of authentic rebellion" to dress up their bog-standard product so people can feel "edgy" without actually taking any risk.
From the first category, a new study purports to list psychological characteristics of metalheads:
By matching music preference to the personality traits, Professor Swami found that 'openness to experience' was a major factor in enjoying heavy metal.

Perhaps more surprising however, was the fact that those with a strong preference for metal were more likely to have lower self-esteem.

Metal heads also had a higher-than-average need for uniqueness, and lower-than-average levels of religiosity.

'It is possible that this association is driven by underlying attitudes towards authority, which may include religious authorities,' said the authors of the study.
If this study is like other scientific studies, it's a laboratory analysis. That means that it is designed to prove a point by using factors that wouldn't apply in the world. It anticipates an audience for this point of view, meaning that they already agree with it.
For example, this study came from giving a form to fill out to 400 people who had to listen to 10 heavy metal tracks. Usually this means people who needed money paid out by researchers.
Further, we have no idea what the questions were like. For example, a second study found that:
A separate study by Heriot-Watt University in Edinburgh found that lovers of heavy metal and classical music have very similar personality traits.

Unlike the Westminster University study, it found that both types tend to be creative, at ease with themselves and introverted.
If self-esteem is measured by extroversion, then introverted people won't score highly on it.
Furthermore, The Downing/Dunning-Kruger effect suggests that smart people underestimate their abilities, a trait that could be confused with low self-esteem.
My own experience of metalheads is that, much as Black Sabbath wanted to rain darkness and horror upon the "all you need is love" hippie movement, metalheads are realists who distrust the social proposition that social propositions like pacifism, tolerance, love, individualism and buying stuff at Wal-mart will solve our problems.
Society's social people offer us the idea of Utopia, of a world of love and trust, of peace and equality where everyone's quirks are tolerated, but metal shows us the darker side of reality where war is our destiny, there is no peace, people are not just judged but ranked by their abilities and degree of realistic behavior, and nothing is tolerated except to be manipulated. It's the grim realist camp.
On the other hand, metal posits an "other side" to these realizations. When one accepts the nature of reality, one no longer must put up with the obligatory praising of everyone and approval of everything. If metal is a literary character, it's Jane Austen's Mr. Darcy (as well as his eventual wife, Elizabeth Bennett, who notes in one poignant scene that neither of them perform — a metaphor for act toward social approval — for others).
For these reasons, I wouldn't get worked up about this study. It's not nonsense, merely a selective sampling and interpretation. For all we know, they found 400 college students and took out the 20 Slipknot fans and asked them if they saw themselves as winners, would rather be at a party than home with a whole pizza, how often they go to church and whether they consider themselves individuals or "just one of the sheep." It's pretty easy to provoke the response you want under such conditions.
On the other hand, this second study unleashes interesting possibilities. Metalheads are like classical fans, and both groups tend to be "creative, at ease with themselves and introverted"? This is more like the reality I've experienced.
The article also gently hints that there may be a bit of detail-obsessiveness and tendency toward over-analytical approaches in fans of both genres, name-checking metal's tendency to subdivide into genres.
Unlike the other study, this Scottish study — which used a broader range of data — found that indie rock fans, not metalheads, lacked self-esteem.
Tags: academia, Heavy Metal, metal