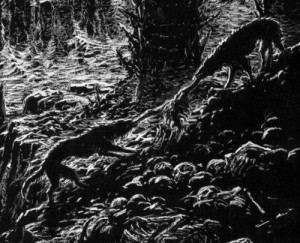 New Zealand post-apocalyptic metal band Heresiarch, who sound like a cross between old Incantation/Demoncy and modern war metal, plan to release a new 7″ EP named Wælwulf which they have schedule recording time for in the last week of July.
The new release will feature 3 new tracks of Heresiarch's customary onrushing doom and death and is to be released by Iron Bonehead Productions. As part of this anticipatory announcement, the band released a cryptic 1/8 of the cover by artist Nick Keller.
Hammer of Intransigence, the band's 2011 CD, reflected the type of chromatic primitive riffing that bands like Incantation, Blasphemy, Demoncy and early Bathory used to create an atmosphere of total suspense of civilized pretense. It is believed the EP continues in that direction.
Tags: dystopian metal, heresiarch