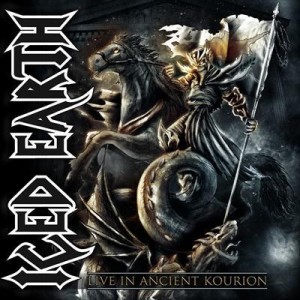 Power metal is a sub-genre composed of aggregates. The most basic definition of it is heavy metal catching up with speed metal and (sometimes) death metal. There are variants within that.

For example, there's the Blind Guardian fusion of inspirational rock, speed metal, death metal technique, glam metal and heavy metal that forms one branch. Then there's Helstar, who sound like Iron Maiden meets Slayer. And on the far side, there's Iced Earth, which sounds like really advanced speed metal.
Plagues of Babylon is to be Iced Earth's latest album. Frontman Jon Schaffer describes the release as having a "late 2013" touch-down date, and being "something very special" and that he is "very excited about how killer things are sounding this early in the writing/demo process."
Iced Earth is coming off the release of Live in Ancient Kourion, a CD/DVD of a recording of a 2.5 hour show in a 6,000 year old amphitheater on the island of Cyprus. In support of this and other past work, the band is touring Europe this summer.
The tracklist for Plagues of Babylon was announced by Schaffer as follows:
1. Plagues of Babylon
2. Democide
3. Among The Living Dead
4. The Resistance
5. If I Could See You
6. Peacemaker
7. Cthulhu
8. Parasite
Iced Earth will be appearing at numerous festivals and a full range of European dates this summer. Catch them at the following locations:
ICED EARTH – summer festivals 2013:
6.20.2013 – GER Sankt – Goarshausen Metalfest
6.21.2013 – NED Dokkum – Dokkem Open Air
6.22.2013 – GER Dischingen – Rock am Härtsfeldsee
7.12.2013 – GER Ballenstedt – Rock Harz Open Air
7.13.2013 – GER Balingen – Bang Your Head Festival
7.25.2013 – SLO Tolmin – Metaldays
7.27.2013 – GER Obersinn – Eisenwahn Festival
8.8.2013 – SWE Gävle – Getaway Rock Festival
8.10.2013 – POR Quinta do Ega, Vagos – Vagos Open Air
ICED EARTH – European Tour 2014:
1.9.2014 – GER Saarbrücken – Garage
1.10.2014 – NED Hengelo – Metropol
1.11.2014 – BEL Antwerp – Trix
1.12.2014 – GBR Birmingham – O2 Academy
1.13.2014 – IRE Dublin – Button Factory
1.14.2014 – GBR London – O2 Academy Islington
1.15.2014 – FRA Paris – Le Trabendo
1.17.2014 – ESP Madrid – Sala Caracol
1.19.2014 – ESP Valencia – Rock City
1.20.2014 – ESP Barcelona – Razzmatazz 2
1.22.2014 – SWI Pratteln – Z7
1.23.2014 – ITA Romagnano – Rock 'n' Roll Arena
1.24.2014 – SLO Ljubljana – Kino Siska
1.25.2014 – CRO Zagreb – Pogon Jedinstvo
1.26.2014 – BIH Sarajevo – Club Sloga
1.28.2014 – ROM Bucarest – Juke Box
1.29.2014 – TUR Istanbul – Kucukciftlik Park
1.31.2014 – GRE Athens – Gagarin 205
2.1.2014 – GRE Thessaloniki – Principal Club
2.2.2014 – BUL Sofia – Mixtape 5
2.4.2014 – SER Belgrade – Dom Omladine
2.5.2014 – HUN Budapest – Club 202
2.7.2014 – GER Nürnberg – Rockfabrik
2.8.2014 – TCH Zlin – Masters Of Rock
2.9.2014 – GER München – Backstage Werk
2.11.2014 – GER Berlin – Astra
2.12.2014 – GER Köln – Essigfabrik
2.13.2014 – GER Bochum – Zeche
2.14.2014 – GER Osnabrück – Rosenhof
2.15.2014 – GER Hamburg – Markthalle
2.16.2014 – DEN Copenhagen – Vega
2.18.2014 – SWE Gothenburg – Sticky Fingers
2.19.2014 – SWE Stockholm – Debaser Medis
2.22.2014 – ISR Tel Aviv – Reading 3
Tags: iced earth, power metal