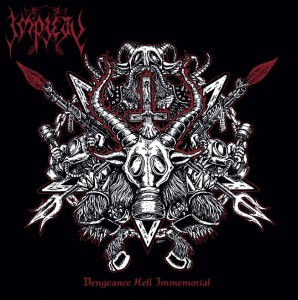 Released on the 20th anniversary of their first EP, Impiety's upcoming LP collects some of their rarer releases onto a single platter for perusal by slamming high-speed death metal maniacs worldwide.
Compiling the Salve the Goat…Iblis Exelsi EP (1993), Ceremonial Necrochrist Redesecration demo (1993), split EP with Surrender of Divinity (2004), and the split EP with Abhorrence (2008), Vengeance Hell Immemorial assembles some of the more sought-after releases from this band's history.
A special gatefold vinyl pressing from Hell's Headbangers, the compilation will be unleashed upon the world on June 28, 2013. Less than a month later, on August 8 Impiety will unleash their new mini-album The Impious Crusade as if a nod to this grand tradition of shorter works, demos and EPs.
Salve the Goat…Iblis Exelsi EP (1993)
1) Cuntblasphemy
2) Magick-Consecration Goatsodomy
Ceremonial Necrochrist Redesecration demo (1992)
3) Intromancy
4) Ceremonial Necrochrist Redesecration1
5) Pentagramathron
6) Fallen Blasphemathory
7) The Seventh Goatspawn
8) Outroblation
Split w/ Surrender of Divinity (2004)
9) DragonOath Diabolus
10) The Seventh Goatspawn
11) Imperative Coronation
12) Invicible Force (Destruction cover)
13) Blessed are the Borachos
Split w/ Abhorrence (2008)
14) Storm of Abhorrence
15) Outronomicon