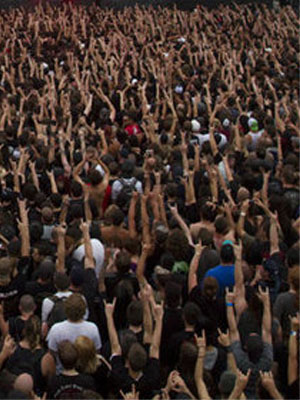 I think if you'd ask most hessians, they would say that we live in the age of kali yuga. If you get a chance to speak with lower-case-c conservative people, they express the same feeling: that something is lost. That some form of refinement, culture, and civility is gone from modern culture, if you could even call it that.
One of the complaints that repeats itself regards the state of the arts, and more specifically, music. It is simplistic, they complain. It is crass, uncultured, fatalistic, naval gazing, hedonistic, idiotic and stupefying. None of these is wrong.
It saddens me, then, when people complain about rap, rock, and Lady Gaga, they usually lump metal along with the complaint. I get it, though. The way metal appears to most of the world is not as a refined style. Some of it is also the product of the vast machine of idiocy that turned music into the nightmare that it is today. They made it safe, by making it mockable.
But some of the fault lies with hessians. Not all bands are Pantera and Slipknot. There is an entire world encapsulated in the metal genera. It is one of the only styles that keeps on expanding and developing. We have some commitment, as hessians, to support metal, in the great cultural discussion that extends through the generations.
Good metal will always be there, and will always be a legitimate art form. It would be sad, however, if those who could appreciate it (they don't have to like it) would appreciate it, instead of buying into this elaborate hoax by the impetus of insignificance espoused by commercial music.
First and foremost, metal is a legitimate art form. A legitimate form of music. Yes, there is metal which is certainly not music. Pantera and Slipknot come to mind.
However, there is something in metal, a movement that existed since its advent in Black Sabbath's first album, which expresses immortal truths. It feels as a sort of pessimistic conservative message.
Are things running down? Is there a process of degradation, a willful suicide enacted by modern culture? This observation was expressed by Black Sabbath, in an attempt to rain on the hippy party. We won't go into why hippies are the end of civilization right now, but know that if some movement, since its advent, was diametrically opposed to such movement, there already is some root credibility to it. The hippies wanted to create a world without values, without temples or transcendence. Metal, on the other hand, constantly seeks transcendence, enlightenment, and a form of holiness. It is not base and animalistic, but in fact, a deeply religious experience.
In metal, there is encapsulated an idea that holiness cannot exist in a vacuum. If there is holiness in life, it must be whole. Blasphemy became an act of holiness and worship of life in its fullest.
To truly love life, you must love it completely, including the scary, red in tooth and claw parts. Metal expresses these aspects in purity and vicarious form. There is no need to describe beauty, truth, and love, because you cannot accept them until you have delved into pain, struggle, overcoming, violence, exposing hypocrisy, self reliance, heroism and individuality. These ideas are the bread and butter of metal music. It is not individualism, but individuality.
Undeniably, there is a nihilistic streak in metal. It is not the passive, fatalistic kind of nihilism, but the nihilism that views happiness, success and overcoming as dependent upon choices made by the self. No avoidance of consequences, looking ugly truths in the eye. There are inescapable things in life. Death, pain, lies, predators, and all the degeneration that arises from the human condition.
Do you deny these exist? Deny their necessity? It would be like denying rot and defecation. Ignore them and you're in for a mess. Accept their inevitability, and you get a daily battle which never ends. It's like mowing the lawn.
Metal is the tool which shapes this view of life. It might seem bleak, but the happy warrior never despairs. It's an existential battle, and metal is the fuel, the blood in its veins, the fire burning in its soul.
I wouldn't be who I am today without metal. Without these immortal truths as my guides and friends. I could be there, smoking the pipe-dreams of modernity. Drinking the kool-aid. Why chose suffering and a constant fight?
Maybe because I believe in tragedies.