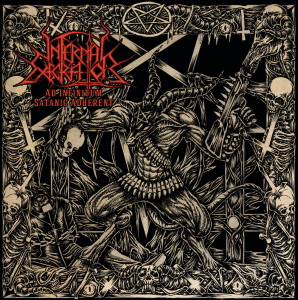 An incredibly brief, foggy, quasi symphonic intro with Marduk-like vocals pronouncing some indecipherable gibberish, followed by minimalist and recklessly fast riffs could fool one into thinking this is precisely a Marduk clone. In truth, there are mid-paced sections interspersed here and there to mitigate the onslaught of the indecipherable and impetuously fast sections. This upgrades this release to a later Marduk clone. Although probably upgrade is not the most accurate descriptor here.
The best and undeniably valuable product of extremely fast, loud and unrelenting black metal has been contributed in the last few years by albums like Advent Parallax and in the veritable modern classic Godless Arrogance. Marduk, on the other hand, was always wild abandon to mindless, truly mindless, speed and minimalism for the sake of it and more importantly for the joke of it.
But while Marduk are explicitly joking about everything they write about while staying somewhat seriously offensive, Infernal Execrator manage to sound like a joke more easily acceptable among the Godflesh Apocalypse extreme metal crowd. The words Ad Infinitum Satanic Adherent themselves are more than enough warning that this should be placed besides the likes of Tol Cormpt Norz Norz Norz. The only difference is that Impaled Nazarene triumph in the same way that Sharknado does: by embracing the joke and being happy with it. These Singaporeans purport to be more (by calling posers out) while not being able to take themselves entirely seriously. Fans of the Marduk, Behemoth and Cannibal Corpse will find this release palatable and fashionable.
Tags: 2014, Ad Infinitum Satanic Adherent, behemoth, cannibal corpse, clone, Impaled Nazerene, Infernal Execrator, joke, marduk, minimalist, Sharknado, Singapore, Tol Cormpt Norz Norz Norz