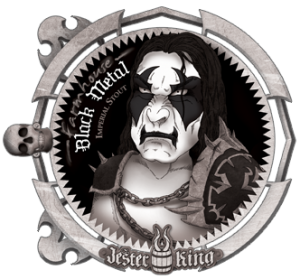 Many metalheads enjoy a nice brew. It was only a matter of time before a beer company was founded by fans of metal.
Being from Texas I have noticed a new brand of beer that has infiltrated my local corner stores. I observed a common face-painted figure on the label. It piqued my interested to purchase my first 'Black Metal Imperial Stout' beer. It was dark. It was strong. Oddly when I drank this beer I was listening to Beethoven's 7th Symphony, but the alcohol enhanced it; almost gratingly. Some may perceive this as Black Metal further being commercialized, but that already happened in the 90's. Jester King is operated by metal fans, which assists in promoting metal in commonplaces. In the scheme of things, this may further bring attentions to the genre.
Jeff from Jester King has offered some of his time to answer my questions.
Howdy Jester King! Thank you for your time. First off, what started Jester King? Did it start as a micro-brewery?
Jester King was started by my brother Michael and me. We began working on it in 2008 and eventually opened in 2010. We started and still are a micro-brewery making beer in the Texas Hill Country.
The main reason I am conducting this interview is to inquire about metal. What started your Black Metal beer? Are you guys Black Metal fans? How did you come up with the mix for this beer?
I listen to Black Metal and thought there were some similarities between the music and the beer. The beer is dark and punishing, but it also has some more symphonic notes from its fermentation with farmhouse yeast. I thought the musical style fit the beer. As far as the recipe, it's a hybrid between the English and Franco-Belgian brewing traditions. The malt and hops are all English, but the fermentation is with Saison yeast.
Outside of Black Metal, what other types of music do you enjoy?
I also enjoy crossover thrash, blackened death metal, third wave ska and western swing
I noticed a lot of rather 'morbid' or 'twisted' themes with your beers. How did this come to be? Did you want to make a statement with each new recipe?
We try to make beer that's a reflection of who we are and what we believe. We want what we do to have meaning, and that meaning comes from within. We try to put out work that has authenticity and character. We're confident that if we be true to ourselves and do good work, there are others out there who will embrace it, even though we know mass appeal is something we'll never have. We're comfortable with that.
Some of the imagery, artwork and language we use can be somewhat dark and disturbing from time to time. Again, we try to be true to ourselves knowing full well that it's not going to be for everyone. I wouldn't want it any other way.
How has the response been to Jester King? I've noticed that grocery stores carry it now. Are you continuing to gain momentum? Will you eventually take on Shiner Bock? Do you even like Shiner Bock?
It's been good. We've been really flattered in many cases by the reception it has received. We put a lot of thought, trial and error, great ingredients and time into our beer, so we're grateful that it's had a good reception. Right now we're focused on unique flavors from wild yeasts, barrel-aged wild beers with fruit, and 100% spontaneous fermentation using our coolship.
I doubt we'll ever make much more than a few thousand barrels of beer a year. By comparison, the Spoetzl Brewery that makes Shiner Bock is over 500 times larger than us. We'll never come remotely close to their production volume. I actually haven't had a Shiner Bock in quite some time, but I'm sure I'll revisit it at some point. When I drink locally usually I'm having beer from Texas breweries such as Live Oak, Real Ale and (512).
Since we're on the topic of Texas beer, I have always thought of Lonestar tasting like the dirty convenience stores that it's often bought in. What are your thoughts on Lonestar? They do have a rather great marketing slogan of "The National Beer of Texas".
The last I heard was that the Lonestar brand was owned by a hedge fund in Connecticut. I would hope that most people see that slogan as no more than hollow marketing rhetoric. I actually don't have a problem with light lager. If someone loves light lager, that's great. What I have a problem with is the companies that produce light lager (and their distributors) propping up laws in Texas that make it more difficult for small breweries in Texas like Jester King to sell beer.
When your team brews beer is metal allowed in the workplace? Is it part of the process of making your beer?
Metal is encouraged! My brother Michael listens to metal too. Lately he's been playing Nile and Gortuary. Metal is definitely part of the beer making process for me. I can't envision doing my work without it.
If I were to visit the brewery can I receive some extra beer for conducting this interview?
We'd be glad to share some beer with you.
Tags: Black Metal Beer, Jester King