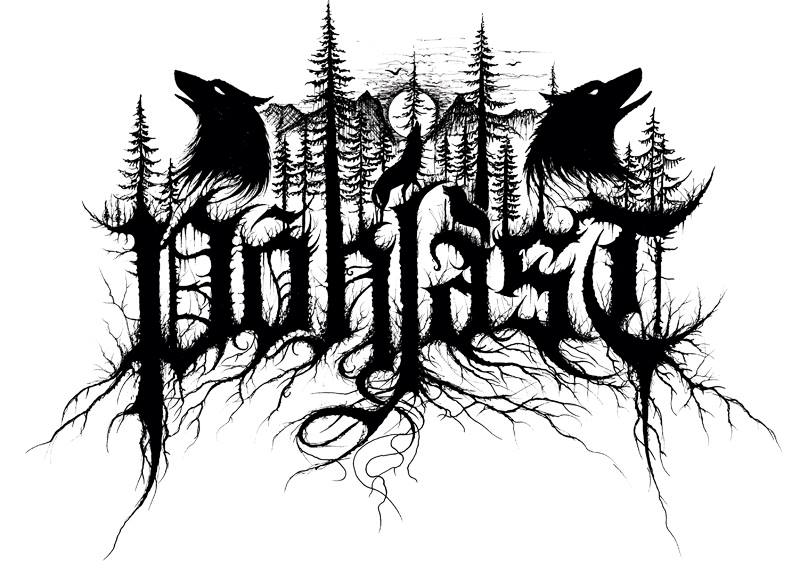 Having discovered Põhjast recently, the DeathMetal.org team was psyched at this chance to interview Eric Syre (vocals) and Gates (guitar) of this energetic new band.
Combining the atmosphere of black metal with the speed and riffing of old school doom metal, Põhjast revive the classic metal vibe as hybridized with the adventurous and somewhat darker spirit of the northern styles. The result is both satisfying to anyone who enjoys Angel Witch or Candlemass, but might also appeal to those who keep old Darkthrone and Immortal on hand for daily listening.
The result is a band that avoids the retro backward-looking sensation of many recent releases, but also bypasses the intellectual forgery that is the assumption that making Sonic Youth ripoff albums with black metal logos is somehow a motion "forward." You'll be hearing more of them and their energetic vocalist Eric Syre, who channels three decades of metal talent into a single voice…
When did you discover you had a talent for classic metal vocals? How did you form the understanding of melody and sonic topography that guides these vocals? Who were your influences? Why haven't we heard this voice before?
I have always been into clean signing and started as a singer in a rock band back in the early 90s. I also did some choir work for different projects in the past. When the time came for me to start my own bands I just ventured into heavier music and adapted my vocals to it. I have very little musical training so I work a lot with instinct and feeling, improvising vocal lines first and then reworking them with a keyboard or an acoustic guitar to make them musically "right." I try to stay away from copying the riffs I sing over and come up with a melody standing on its own. It complements the music a lot better and expands the palette of feelings the whole song has to offer.
As far as influences, I always liked singers who had some grain to their voices, not the perfect-sounding ones. I have a baritone/bass range and I guess that naturally I prefer singers close that range. I have always been into Bathory and Candlemass so I guess you can find traces of both Quorthon and Messiah in my vocals. Bruce Dickinson remains the ultimate clean vocalist in the metal genre, for me. Dio and Gillan are also vocalists I have high esteem for. I also like the octavists singers. They are out of my range but I admire the power and resonance of their voices.
Tell me about how Põhjast came to be. I am told that the band is scattered across the globe, and you collaborate remotely. How do you do this?
We are scattered here and there, both in Europe and America. I am located in Quebec, Canada. With the technology which revolutionized the recording process in the last decade, it became a lot easier to have such a band. They record the music in Estonia and I do my parts here. We exchange emails and samples and, like in any normal band, we come to a conclusion where everything pleases us enough to release the music. It just requires a bit more time and technicalities. I sometimes miss the whole "rehearsal room feeling" but so far it's the only way to make it work.
What style of music would you describe Matused as being, and how does it differ from previous Põhjast work? Can you tell us what "Matused" and "Põhjast" mean in Estonian? Does the band have any influences, and do they show on this album?
This new album is a good follow-up to the previous one Thou strong, Stern Death, released in 2012. It has some doomier elements, a little more classic Heavy Metal to it and the references to Bathory are present more than ever. To me it sounds like Scandinavian/Baltic Metal should sound; It's heavy, cold and pounding. If I am not mistaken, "Matused" means "funerals." It obviously refers to the lyrics of all songs. "Põhjast" means "north," or at least that's the understanding I have of the word. I speak French so you can understand my limits with Estonian.
Maybe Gates (guitars) can elaborate a bit more:
Exactly, Eric is right: "Matused" means funerals in Estonian and the name of the album is connetected with the album lyrics. The name of the project — Põhjast — means both the direction of North and the base or foundation of something — a revival, the end of something old and the birth of something new. Therefore the name has a much deeper meaning, at least for me, than just a mere name of a band.
Definitely the project has its own influencers. I personally have been greatly influenced by such persons as Quorthon and Abbath. Both have paved the way to extraordinary music styles. May these be black metal or viking metal, there's no difference – everyone who have heard their creation can admit that the music is special and that they have not heard anything like this before.
I am not inspired only by their music. I find their healthy sense of humor and attitude towards life inspiring as well. I have always enjoyed the interviews of Abbath — his interviews from 1991 in Septicore and in 2007 in Inferno are both equally pure gold to me.
However, if I should still generalize, then the music of Põhjast can be categorized under Scandinavian Metal — one can certainly detect similarities to Oz, Bathory, Immortal, Morgana Lefay and Candlemass.
Do you think the "true" styles of metal are experiencing a resurgence? If so, why? Is Põhjast part of this, or building on what it has done? If the latter, where do you think your music is going, both stylistically and in terms of content?
I don't think Põhjast is part of anything. The music stands on its own on among a well-established tradition of European Metal. You can hear traces of classic metal, probably due to my vocal approach. I do not want to link what we do with any of the current "retro" or "true" trends. If there is a resurgence of classic metal it's probably due to the fact that what's current isn't that interesting for the record-buying public. I am just back from the Maryland Deathfest and I can tell you that the people attending there longed for good old heavy music. Most of the acts there either disbanded years ago and reformed recently or were directly linked or influenced older waves of metal.
I agree with Eric — Põhjast is not trying to follow trends.
I personally do not listen to a very wide variey of stuff – I listen the things that I used to listen to in my "youth", be that either Bathory or The Smiths. I have never had an ambition to "invent a bicycle". I have always wished to create the music that I admire. I wouldn't call it plagiarism, rather as a bow and a hommage towards the musicians I admire, hoping that the music we make is worthy enough. If not, let it sink into the obscurity of ages…
When you sing, how do you pick the notes and textures you use? How much of it is based on the music as written, and how much is your own interpretation of where it should go? Are the rest of Põhjast flexible about giving you space to create?
In Põhjast, everything is already written and recorded before I even start working on the vocals. I work on finished songs so I need to adjust everything I do to the reference files I get. I usually start improvising vocal lines and then refine everything using keyboards or classical guitars as guidelines. I try to have everything in tune but also keep a lot of notes "on the edge," if you know what I mean. Quorthon used to do that a lot (voluntarily or not) and I like that. It's important for me to write according to my vocal range but I also try my best to fit the vocals with the mood of the songs. This is the highest in pitch I ever went on a record so far as I am more of a baritone/bass singer. It's a good thing to have completed songs to work over as I can get the whole feel of it a lot better. Sometimes I hit a wall trying to fit in patterns and melodies as the lyrics are also completed. It's a maze I come out of with time and a lot of demo recordings. I get total creative freedom from the rest of the band and I truly appreciate that. They trust me a lot as they rarely or never hear anything up until I send them all the vocal tracks at once.
What do you think makes a good metal band? Is there an outlook, content or stylistic direction that is uniquely "metal"? Can this be lost such that a band could use metal riffs, techniques, etc. and still not be metal?
If you keep aside the usual instrumentation (guitars, bass, drums, vocals), metal has this abrasiveness and weight you rarely find in other genres. Heaviness isn't all about tuning down and playing loud, it has a lot to do with the whole package built around the music, the themes, the vocals and even the artwork. Metal is this visceral manifestation of the darker side of human nature trough music built around riffs played on electric guitars and accompanied by pounding drums and intense vocals. It requires passion and dedication to make it sound right and it's no wonder enthusiasts of the genre smells the fake ones miles away. Listen to Front Line Assembly's Millenium or Skinny Puppy's The Process to see if using metal riffs automatically makes metal music. I like those albums but they're definitely not Metal.
Why do you think that black metal (which seems to be a partial influence on Põhjast) exploded as it did? Was there a mental state required to bring it about? Or was it all just music?
I like to think that there has to be more than just the music. The innovators of the genre believed in more than just "music," at least when they began. A lot of death metal bands were just into it for the music and you see where the genre ended in the late 90s. The same happened with black metal with the turn of the millennium. You can't get great art from trend-aspiring musicians writing typical riffs. Black metal exploded because it was the latest genre representing integrity and involvement transcending creation. It looked and sounded fierce and the leading figures behind the genre made everyone feel like they meant it. Some truly did and some didn't, as history proved to us. The metal scene needed this level of "involvement" after the debacle of death metal. It still does today, now that most genre has been swallowed by the mainstream. Doom metal is the current trend and I never expected it to be…
I think also that there should be more than music – why not friendship? I believe that for example The Smiths might as well never have been, if Mr. Marr and Mr. Morrissey had not met… or Abbath and Demonaz.
How was this album recorded? Did you use a studio, and if so, which ones? Did you have any idea of what the final product was going to sound like when you did the vocals?
I will let Gates answer parts of this question:
Both Põhjast albums are recorded in Estonia, in Roundsound professional studio under the baton of Keijo Koppel. Cooperation with Keijo has been very productive and we hope that it will continue, as there are more Põhjast records on the way. I personally have had a very concrete idea about the material until Eric comes along :)
As for the vocals, everything was written and recorded so, yes, I had a good idea of where I was heading with the vocals.
What's next for Põhjast? Will you all unite somewhere to tour, or continue recording? Do you have a label for Matused? Was this a recent signing?
I will let Gates answer this question:
We thought that Põhjast would always remain a studio project. But we have to probably eat our own words, since, if everything goes according to the plan, Põhjast can be seen already in summer 2014! At the moment we are looking for a worthy record company, with whom we could develop an effective cooperation.
If people like Matused, where should they next turn for more Põhjast or related acts?
People can check our previous album Thou strong, Stern Death (Spinefarm, 2012) — www.pohjast.com They can also check our other bands: Metsatöll, Sorts, Barren Earth, Rytmihäiriö, Ajattara, Beast Within and Thesyre.
Thanks a lot for your support and involvement. It's appreciated!
Põhjast
Eric Syre – vocals
Gates – guitars
Vesa Wahlroos – bass
Marko Atso – drums
Tags: Black Metal, Doom Metal, Heavy Metal, põhjast