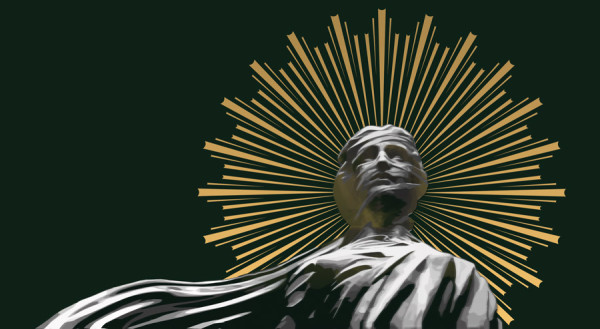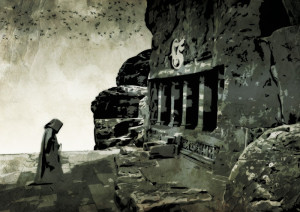 Art direction for preparing album aesthetics is important for delivering a visual representation for the music that it banners. Francesco Gemelli has been providing visual artistry for numerous bands and other clients. With utmost professionalism displayed in his works, Francesco is expanding his work as art director for record labels and freelance endeavors. He's amassed quite a hefty resume of album covers and logos.
How did you start out in art and what inspired you?
In general, growing in Italy gives to you the chance to become familiar with Art since a young age. Furthermore, in my case, the proximity to Roman and Greek archeological areas influenced my artistic imaginary that I have later developed progressively at school. I started drawing very early and, above all, I have been attracted rapidly by the computerized graphics. Indeed, I did my first experiments on an Atari St back in 1986, publishing later my first works on specialized magazines.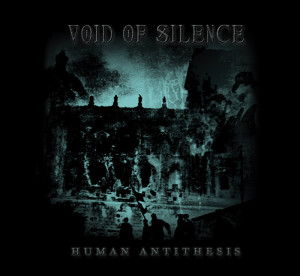 What encouraged you to also start creating artwork for album covers?
To create album covers and work with the bands allows me to keep on my relation with the musical environment that represents one of the biggest passions in my life. As often happens, I started drawing logos and put together collages for demos of local bands, but the first significant occasion was given to me by Riccardo Conforti of Void of Silence that, having known some of my oeuvres, entrusted me with the creation of the new symbol/logo for the band and the artwork for "Human Antithesis". I'm deeply attached to this album that has become a pillar of the modern doom metal and, even today, many people speak with fondness about this great release, pointing out the balance between the musical and the visual components. Moreover, Riccardo honored my work tattooing on his nape the logo that I have designed. His gesture deeply touched me.
More recently, Diego of ATMF and Luciano of I, Voidhanger Records chosen me as art director for their labels and I would like to use this opportunity to thank them for trusting me, allowing more people to know my work.
How much does your art reflect what you perceive of the music or its themes?
I like define myself as "visual interpreter": when I work with a band my goal is to translate visually the music and the related concept. Chasing this target I don't try to forcedly impose my personal style or my works but to find instead the right visual elements to complete and enrich the music. That's why I'm always open to collaborations with other artists: in specific occasions, indeed, I prefer to assume the role of art director, choosing the works of other artists that I like and making those coherent and organic with the music. When, in the making of an artwork, you have the chance, for example, to use the incredible pieces of a genius like the painter/sculptor Nicola Samorì or of the worldwide known photographer John Santerineross, you have only to enhance theirs oeuvres all possible and to create a connection between these and the songs. Recognizability is a central point for an artist in the contemporary art, but for an art director the mark of identifiability has to be the quality of your work and satisfaction of the client.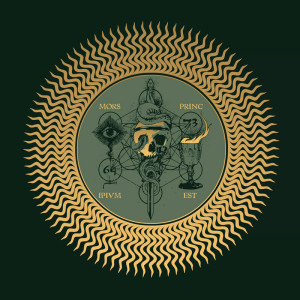 What other artists, musicians or thinkers influence your style?
My work is extensively influenced by the art of the 1900s: equally by the first years of the century as well as by the current tendencies. Between the different art movements, the Informalism certainly had a big influence on my artistic development.
As you may have figured out at this point, I don't follow a single procedure to realize my works, so I attend as much as possible exhibitions and galleries to meet and discover new artists and ideas. Working on artworks, I involve a mix of different media and softwares: some pieces grow out only through the pencils, others are the outcomes of computer graphics, some else come out from a mix between handcrafted and digital resources.
Are there certain themes that you naturally gravitate toward? Do you see your artwork as having a naturally bleak or desolate character?
Not at all. A key-point of my research has always been to contrast some aspectŽ widespread in the metal extreme genre and when the bands have been sufficiently "courageous" to share my point of view, I have always tried to take distance from the common solutions. Take, for example, my artwork for the "Inter Uterum Et Loculum" of Locus Mortis: although they play a fast and aggressive traditional black metal, I have described their music drawings gentle figures and using a bright palette of colours. Even when the bands expressly requested me traditional solutions for their artworks, I have always tried to put in there some elements of innovation: from the involved technique of production to the chromatic palette. It's hard and maybe not useful to eradicate and betray overused commonplaces, but it's possible to innovate from the "inside" without renege the past, and to try to "educate" people to new solutions and artistic waves.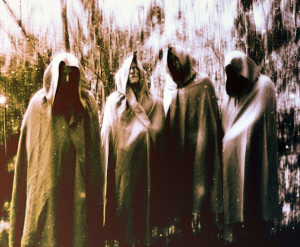 You've worked with altered photographs (such as in "Aus Der Transzendenz" 2012 Promo Pics) which bring out a majestic nature to your subjects. What is your technique here? How do you decide on the balance between obscurity and clarity? Does your alteration direct the eye to a focal point in each piece?
I usually adapt the photo manipulation technique to the characteristics of the band. In this case, the band asked me to place the group in an "unreal" and "magical" dimension. So, I operated on the background, working also on colors, tones and lights. I didn't alter the eyes of the members: they were already striking a theatrical pose in the picture.
What pieces of your art have been displayed in exhibitions? Where can people expect to see your work next? Will you expand beyond album covers?
The original pieces that I created as artwork for the debut of my industrial project Eidulon on Malignant Records have been part in contemporary art exhibitions. These stark black and white illustrations were inspired by Taschism and Spatial Art.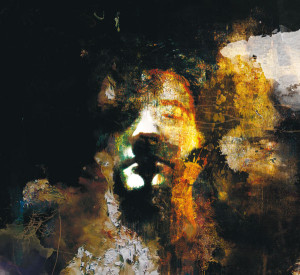 Who do you think are the most historically important and/or best metal album cover artists of all time?
I don't think that there is a most important cover in metal history; I consider, however, some artworks and artistic choices crucial for the development of the "heavy metal aesthetics": between the late '70s and mid-'80s, bands like Back Sabbath, Iron Maiden, Judas Priest, Venom, Mercyful Fate and Metallica laid the foundation to the process of identification of those symbols and themes that have differentiate the HM from the other genres. This process has gone to influence the audience on how they perceive themselves and, in its turn, the aesthetics of the new bands.
Despite this developing trend, in the 80s, the different bands were visually recognizable and there still was an "artisanship" in producing artworks. By moving to 90s, with the diffusion of PCs, the computer graphics software became something that everybody can have and, even if there's nothing negative about that per se, the "layering process" permitted by these new instruments resulted in a standardization of metal artworks that started to look too similar to each other.
In the last ten years, with the widening of the process of fragmentation of subgenres and publics, the need to stand out visually is becoming increasingly important. As mentioned before, recognizability is a focus point for an artist in the contemporary market, so it's implausible, even in the extreme genres, to overlook the visual elements of a musical project.
Where can we expect to see your work in upcoming musical and artistic projects?
I just finished the artwork for the re-recording of the debut album of Janvs, "Nigredo", on Avantgarde Music and I will cooperate very soon with Benjamin Vierling for the new Spectral Lore album. At the same time, I would expand my experiments to video-art and, since now I'm working between  Montréal and Toronto, I hope to find this opportunity and new inputs too.
I will try to develop new joint collaborations and I would like the chance to work with other great graphics like Metastazis from France, Trine + Kim from Norway and with a band like Elend that I follow and appreciate from the very beginning of their glorious career.
I recently started my Facebook page, so anyone who might be interested can follow my future works there.
Thank you for this interview.
Check out Francesco's music project Visthia here.
Tags: album covers, art, Art Direction, Francesco Gemelli