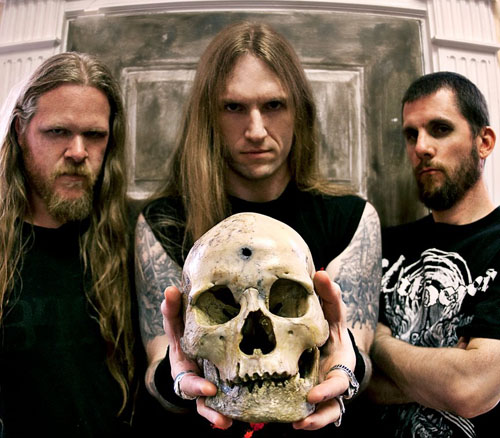 Whenever society gets too complacent and considers itself to be a success, Birth AD pops up out of a nearby container and reminds it that civilization is failing, most people are idiots and we're probably all doomed. The difference is that Birth AD is funny and has good music, while just about anyone else criticizing society is a bore.
Coming to us from Austin, TX, Birth AD is a continuation of the crossover movement called thrash from back in the 1980s; if you remember how everyone and their brother wore a DRI shirt when they went to the skate park, you remember this movement. It was a cross between hardcore songs and metal riffs, and the result was unique and spoke clearly to the fears of the age.
While there have always been retro-bands looking back toward this style, Birth AD took up the style while looking forward, and have carried it into a new dimension of what it always could become. We're very fortunate to have Jeff AD to speak with today.
What were your influences in formulating your style, and how did you update it without having it be assimilated by newer forms of music?
There aren't any new entries that motivated me, it was all the classics. SOD, DRI, Dr. Know, Fearless Iranians From Hell, Cro-Mags, Nuclear Assault, and other usual suspects were touchstones. I willfully refused to let my material reflect any late-model sounds. Why would I? I was there when the sound was at its peak (admittedly I wasn't even a teenager yet, but it still counts).
I felt like a lot of bands from that period had one really crucial album and then fizzled or stumbled. Bands like SOD and the Cro-Mags were effectively lightning in a bottle in that they each made one massively influential album and then fell apart. There was so much potential, so much more to be said, and I wanted to create something that was a direct continuation of those great releases, free from the adulterants of current conventions. Crossover is a very specific hybrid, and a band simply cannot invoke the term without cultivating a handful of necessary elements.
You're about to launch your first full-length album, I Blame You, on Dark Descent sub-label Unspeakable Axe records. Can you tell us what's going to be on the album?
We pulled a Dealin' With It and re-recorded the entire EP, along with several new songs. Alex Perialas helmed the recording at his world-famous (and gold record laden) studio, Pyramid Sound in Ithaca, New York. We recorded in January 2012, so it has sat in stasis for a bit while we figured out where to put it. Part of this was because I wanted to work with Alex without exception, and January was the time he had available. It's a good thing we did it when we did, as he subsequently got into a property battle with the city and the whole endeavor would have been shot to hell.
What do you think makes a great crossover thrash album or song?
It has to be memorable and catchy while communicating a coherent idea. DRI was my primary model because they were always good at writing clever lyrics that sent clear and pointed messages. It also helps to be succinct. If you make it past the four-minute mark, you're doing it wrong.
Why do you think there's so much interest now in older styles of metal?
It's natural to look back on 40 years of metal and its variants and wanting to explore it all, especially if you were too young to take part the first time around. In a way, this phenomenon benefits Birth AD quite well, because we're a new band with an old sound that younger fans can claim as their own. Outside of that, pretty much everything good in the genre has effectively been done, so it's hard to re-invent the wheel. I don't blame anyone for wanting to stick with the known quantities to ensure their money is well spent.
When are you guys going to finally dig up Cryptic Slaughter and Fearless Iranians From Hell, and do a tour with them and DRI?
We've played with DRI before, which was a massively good time. As for Fearless and Cryptic, I'll get back to you on that once I get the time machine operational. Can you imagine what it would be like if hessians harnessed time travel? "We've got a Celtic Frost concert in 1986 to see, we'll kill Hitler later!"
Why do you think "crossover" thrash arose when it did?
I think it was because so many metal band and hardcore bands liked each other's stuff and it became imperative for a middle ground to be created. SOD was effectively a one-off tribute to bands like Dr. Know and Agnostic Front, but they ended up sparking a whole new phenomenon because their musicianship was so elevated and the production was so good. In any event, it needed to happen, but after that most bands involved went fully into the metal end of things and lost the punk and hardcore elements that made it qualify as crossover. Birth AD was created in the name of preserving that rarefied sound without the inevitable departures made by our forebears.
How influential do you think "crossover" thrash was on genres like death metal and black metal?
That's a revealing question in that I don't think it had much impact at all. Death metal bands were more influenced by proper speed metal like Slayer and Dark Angel, while Black Metal was influenced by the European groups like Celtic Frost, Venom, Bathory, et al. Those bands deal in fantasy and the abstract, while thrash is steeped in the rigors of daily life. Crossover is something of a specialized entry, much like a cheetah in that it really gets the job done in one very specific way.
What's next for Birth AD?
I'm going to be a grandstanding pain in the ass about this album and see where it takes us. I want to tour and spread the word. I think the time is right. In the meantime, I'll be causing problems and beating up on hipsters as usual. I urge everyone to do the same.
Tags: birth a.d., Thrash