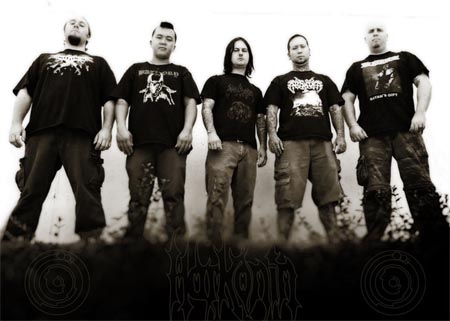 Modern metal.
You can't say those words in a room without dividing the audience. Some love you, and some want to feed you to the gators.
St. Louis' Harkonin is the musical project of Clayton Gore, formerly of early 1990s Tampa death metal "best kept secret in the underground" Eulogy. Where Eulogy straddled the dead middle of the old school, Harkonin is modern metal of the death-metal-influenced style of later Kataklysm, Ion Dissonance and others. In other words, it's technical metalcore with death metal leanings.
As someone who strives to be honest, I'll admit that when modern metal gets mentioned at a party, I'm back in the cocktail line before you can say "fist Jesus." The reasons for this are not important, but while it doesn't limit my objectivity, it does limit my desire to listen to modern metal and thus, to write about it.
However, I'm a longtime Clayton Gore fan and, as someone who strives to be honest, haven't hidden the fact that me and modern metal are incompatible. I don't think that should be used as an excuse to ignore a talented musician and his output, so instead of talking about modern metal, I asked Clayton some non-trivial questions so you, our readers, can see why we at the Dark Legions Archive listen avidly to this man. Without further ado, here he is!
Eulogy – Consecration of Fools
What's the difference between "modern metal" (2000s) and "underground metal" (1990s)?
Not just metal but music in general is necessarily different. Newer music is generally more well-polished and processed whereas music from two decades ago was generally more raw. This is not law – one can find examples of both in both eras. But generally speaking, this is what I observe. Metal back then was breaking new ground constantly. With each new album that came out, I remember being curious to hear what "new" had been done. Each new album had the potential to redefine and shape the genre.
In contemporary metal, rarely do I hear something that feels "new" to me. It seems most metal bands attempt to find "newness" in production values or post-processing sounds and frequencies. This can lead to a high degree of sterility. Now, what would have been a very advanced professional studio twenty years ago is essentially available to everyone with a computer and some knowledge and/or patience.
This is both good and bad. Like any tool, it can be easily misused or abused. Used correctly, it can enable a person to express themselves in ways they may never have been able to previously. Again, both good and bad.
Is the idea of an "underground" still viable, or necessary?
A term like "underground" implies some sort of unity or feeling of kinship between like-minded people, and I think that is long gone. When metal was really first starting, it felt largely positive. The subset of people to whom such music spoke would seek each other out to trade or just correspond about the music. Reviews would rarely be largely negative. Even if a reviewer didn't particularly care for the album, they would generally try to find something positive to say about it. There was a feeling of being a part of something big, of something larger than one album or band, and each was at bare minimum a piece of a larger foundation. There was a "collective-good" mindset.
There are many factors that have brought about great change in this attitude since the early days. The early thoughts of nurturing and fostering a greater metal scene have caused complacency in some bands and relative newcomers, a perception that since innovation is difficult it is okay to stand on the shoulders of giants and mimic the movements. A proliferation of also-rans and knock-offs lead the parade to mediocrity. The underground was something special – a person had to take time, to go out of their way to write a letter, to produce flyers, to create tapes, to make a trip to post a package, etc. It felt like there were few of us and we should stick together.
The Internet has given everyone a voice. There is no journey of exploration which leads to knowledge – it's all available at your fingertips at all times. Following the journey of Bathory from heavy metal fan to black metal innovator to Viking metal pioneer took a decade, with years between each album to study and absorb it. Now it takes minutes. Context is lost.
Forgive the digression… to answer more directly, there is no "underground" any more.
Every band – from bedroom metallers with their digital desktop studio and drum machine to the most skilled at their craft – all have equal voice and opportunity courtesy of the Internet. Word of mouth can spread faster than I can type this response. Everyone is a critic, quick to dissect and dismiss the stack of music they received this week alone if the first ten seconds of each song do not make sounds like they expected to hear.
As much as such a web of connection could be a great tool for a true collective "underground" in the spirit of the old days, it is just not so. Everyone is an island and is quick to judge. As such it's very difficult for there to be anything "new" of value.
Also, the music industry as a whole seemed to realize in the mid-late '90's that metal has the potential to be commercially viable and has proceeded to milk the lowest common denominator to death, shoving it down the throat of the populace at large. I could walk into the nearest shopping mall and buy a Darkthrone shirt in a store. By no means am I suggesting that Darkthrone represents the lowest form of metal, not at all – I love Darkthrone – just using such marketing tactics as an example of the creation of "hipster metallers" or "mall metallers". Marketers use brand recognition that bands have worked hard at creating over a few decades to sell the idea of metal. Such dilution is common when a power feels threatened – divide and conquer.
Metal isn't "threatening" any more. The mysticism that once empowered the music and brought like-minded individuals together is gone. Now it is a perpetual seeking of the next trendy band or sound. Very little time is spent digesting what is in your speakers now or searching for quality among the masses.
Do punk and metal have an ongoing relationship and if so, what is it? How did it affect modern metal?
Absolutely. Look at some of the earlier "cross-over" albums (a term which doesn't really exist anymore) from bands like Cryptic Slaughter, COC, Die Kreuzen, Life Sentence, DRI, Crumbsuckers, etc. Punk pre-dates metal and as such plays a role in the evolution of anti-popular music, music that is at odds with society in general. There are many common threads – the anger and aggression, neo-political and/or anti-establishment, anti-religion lyrics, etc. Any societal more that seeks to bind, limit or brainwash people was fair game to be attacked. It was/is an outlet for the unheard few.
There was also an element of "street", "urban" or poverty in some punk. It was an expression spawned from life experiences at their basest, not just anger or "anti" for their own sake. It was true and pure, as was the earlier metal. But all innovators were eventually bastardized by those who were physically capable of mimicking the movements and sounds but who lacked the life experience or hunger to create meaningful art. Both genres saw a dilution.
Metal saw a fork where the music and ideology went more toward mythos and fantasy/fiction for some while others retained a foot firmly in the reality of "now". This is where punk begot grindcore, with bands like Napalm Death, Extreme Noise Terror and Doom leading the way. Without punk bands like Discharge, there would be no Napalm Death I think. Musically there were other bands that had played such speeds prior, but I think the UK kept the punk spirit and ethos alive in grindcore. Some poetic justice for punk there, some geographical truth.
I think Slayer's "Undisputed Attitude" album illustrates the relationship pretty well.
Is metal rock music? Is death metal? Is hardcore (punk)?
Insofar as we are cavemen, yes.
Music evolves but its lineage can easily be traced. Foundational rock featured the guitar and was guitar-driven with easy-to-understand song structures. From there you can pretty easily trace a direct route to punk rock to metal to hardcore to death metal to… ad infinitum. If one took, for example, an Immolation record back to the late 1950's and played it for someone, would they see the similarities? Probably not, but we have the benefit of time and perspective with which to view the musical timeline. Lyrically, the themes are clearly different, but we have no way of knowing how much of that is influenced by external factors and how much is evolution of thought.
Do you think metal has a future at all? Some think it reached its apex, did all it could, and now we're all living in its shadow. Others think the good days are just beginning.
I am not sure how to answer that question. I mean, take Lemmy as an example. He has been doing the same thing for decades and is more popular now than he has ever been. Same for Iron Maiden, Slayer, Cannibal Corpse, plenty of others. Not citing any of these as the pinnacle of artistic contribution to the romantic idea of metal, just pointing out that the appetite for metal remains strong. I do understand how some take this as a sign of critical mass and predict that metal will implode in the same way as grunge, but what some overlook – particularly newcomers – is that metal is not a "fad" or "trend". Just because the major labels decided to really push it within the last ten years doesn't mean it didn't exist for decades prior.
I think there will always be the "wow" factor – metal is more often than not a very difficult genre to play and requires a relatively high degree of proficiency and mastery of one's instrument, and this is almost always appreciated even by the casual listener. I also think there will always be an audience for hard, angry, aggressive, meaningful music.
There may be a feeling that there are just far too many inferior, lesser bands out there in the metal world. I can see that – look on the internet, there are thousands upon thousands of bands releasing self-produced albums and demos every day. I'm sure some of them are quite good, but the signal-to-noise ratio is far too high to ever hear them. I don't think this is a new phenomenon by any means, I just think that the lens of the Internet makes it seem so.
Anyone who was around in what many now consider the high point for death metal can tell you that this has always been the case. Even in Tampa, the "death metal capital of the world" in the early '90's, there were a small handful of bands that were really good but there were also tens upon tens of other metal bands that were copycat bands. These are the bands that would play venues on off-nights to help keep the lights on and cut their teeth. They would come and go usually without much notice. But now with the Internet, those same types of bands have the ability to flood the market with demos or what have you, spam mailing lists screaming their existence to the world, etc. Simply because we hear of so many bands these days does not mean that this has not always been the case.
I do think, however, that what we've been witnessing the past few years could be another fork in the path of metal. As certain flavors of metal become more mainstream and accepted, there will be the other end of the spectrum that goes back beneath the surface and proceeds in counter-balance to what is popular. There will be a certain degree of "You think that's metal?? I'll show you true metal…" feeling. Maybe this will lead to a new type of "underground", a new banding together of like-minded fans of metal that refuse to just let it die away when it feels like so much has been left unsaid and undone.
Did the audience for metal change between 1995 and today?
Certainly the audience changed. Some people who were fans back then "grew out of their metal phase", others are still fans and still come to shows. But looking out from the stage it seems to me the core audience is still the same demographic – 15-35 year-old males are a majority with females of the same age group making up the rest. People that come out to shows still demonstrate the same passion for metal as fans did 20 years ago.
Shows are just as chaotic and unpredictable now as they were then. I will say that it seems metal fans are a much more discerning bunch as a whole, demanding a certain level of quality now whereas 20 years ago anything resembling other metal might have been acceptable. If you want people to surrender their hard-earned money to come see a show these days, there had better be some quality on the bill.
What for you defines a band or song being "metal," and how is it important artistically?
It's difficult to come up with some sort of qualitative description about what makes certain music "metal" without using very subjective terms. Not only because it is inherently difficult to describe such a thing – something akin to explaining the color blue to someone who was born blind – but because there are so many different kinds and types of metal.
I have an extensive music collection and I struggle with this all the time when filing. It's something you immediately know upon hearing. It's the feeling the music elicits from you when you listen. It's the passion so obviously put into the creation of the music. Loud. Distorted stringed instruments. Bombastic drums. Dissonant, minor chord progressions. Angry, aggressive vocals. Many ingredients make up the stew that is metal, and each adds a unique flavor. Not all ingredients are always present, but it can't be metal without at least one of those things.
Of course, taking any one or more of these ingredients and applying it to other types of music doesn't necessarily make that other music suddenly "metal". Many popular bands in recent years have adapted and integrated some of the elements of "metal" for various reasons and to varying degrees of success. None of this bastardization necessarily makes these other bands "metal". To me it usually seems like a contrived attempt to reach a more broad audience or to make them seem somehow more "dangerous" or "rebellious".
There are exceptions where I think the melding has succeeded, but the by and large it seems shallow. This further complicates defining "metal" to a newcomer, or explaining what I do to someone.
Metal was really guitar-driven when it started but over the last decade or so it seems to have moved to being more drum-driven, which is a shame. To me that perpetuates the idea that there isn't a lot of true songwriting to be found in metal, that metal is largely just a collection of riffs. Metal can be about speed, yes, but the idea that it's a constant competition to see who can be the fastest is asinine. I'd much prefer "interesting" or "moving" music to simply "fast" music or technical wankery.
And there you have it: food for thought from Clayton Gore. Thank you for being with us today, Clayton, and let's let the videos roll so our audience can decide for themselves what they think of Harkonin and through it, modern metal. You never know… you might redeem the genre.
Harkonin – Cult Of Sin (Ghanima)
Harkonin – Lost Cause (Ghanima)
Harkonin – Exhauster of Souls (live)
Harkonin – In The Shadow Of The Horns (Darkthrone cover)