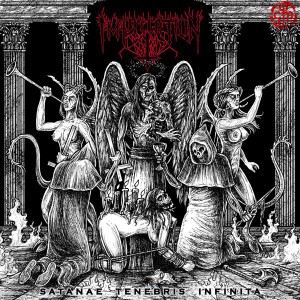 For a brief moment in time, forces of the cosmos united to shape from raw aether a new style of music. This music, called "death metal," brought together a total alienation from modern life with a desire for the forbidden realms of death and the occult. In this new form, a few sage voices prevailed.
One such voice was Houston's Imprecation, who combined several styles of death metal to make a compelling and darkly atmospheric version of death metal that remains distinctive to this day. They flourished for some time, and as the death metal scene faltered and was absorbed by trend-minded imitators, they returned to their homes under the black earth and waited. In the early 2000s, they were reborn.
The result has been a flourishing of death metal here on the third coast. Imprecation leads the way with its morbid and esoteric music and left hand path imagery. Its rebirth seemingly brought other bands out of the obscurity and rallied interest around a movement which challenges the apathy of even a major industrial city.
We were fortunate to catch up with frontman David Herrera to talk about all things death metal and the state of Imprecation, who are a few months from release of a new album on Dark Descent Records.
You have a new album due out on Dark Descent, Satanae Tenebris Infinita. What's this album going to be like and how will it be different from your past work, including 1995's demo compilation Theurgia Goetia Summa?
It has not strayed far from our path that we set in 1992, there are different elements to it but nothing outrageously different about the album.
Some have told me that it sounds like we took the past and gave it a touch of modern dynamics, but have stayed true to our approach and sound.
Personally, I feel that it is a triumph for the band, and a proper representation of where we stand presently and a glimpse of future songwriting as well.
This album is a great triumph for you, because Imprecation has struggled through the years to maintain itself and only now is issuing a followup to the early 1990s work. What did you change in order to make this happen?
I agree, and it feels like a tremendous weight has been lifted off of our backs, especially for Ruben and myself. When we got back together it was to execute unfinished business, and the making of a proper full length was on the tops of our list of goals to achieve with the band. Our next goal is to take our craft overseas, who knows if and when that will ever come to be.
Is all the good metal "the music of Satan"?
Not necessarily, but it doesn't hurt! The age old saying about the Devil having the best tunes rings true, and I am a firm supporter of all true hymns of the Left Hand Path. I also do believe that the music has to come from a Death, Black or Doom metal background to embrace the impious fires and nature of Hell.
I find all sorts of devilry in other forms of music, from old Delta blues to classical. One of my biggest inspirations comes from the songs of Glenn Danzig, especially his era of Samhain and his first four solo albums. Of course I am a big fan of the Misfits as well. Also I am very much driven by dark ambience, especially artists such as Lustmord and the music that you hear in the Kubrick masterpiece of "The Shining". The Devil is also very much present in artists such as Diamanda Galas, The Swans, Coil, Bauhaus, and Ministry to name a few. At least to my ears!
Dark Descent has already released a new track, "From Beyond the Fiery Temples," which shows a style that seems to emphasize ritual in its pacing and song development. Is this for occult reasons, or musical ones?
The song is steeped in the mythos of H.P. Lovecraft; it's mainly visions and dreams states that I have been in. I wanted to pen some lyrics on that imagery, it's been some time since I've touched on that path.
Imprecation is composed of active musicians who have multiple projects. You have Morbus 666 and Bahimiron, Reuben Elizondo has too many to count, and Archfiend is in Adumus. How do you keep the balance going?
Imprecation is the main priority with all involved. I'm still active in Bahimiron, and the triad of Milton, Ruben and myself plan on releasing some future stuff with Morbus 666, but nothing is set in stone at the moment. I do not think that Adumus exists any more, but it is ironic that all the members of that band excluding myself now currently play in Imprecation.
It seems that in 2002, Imprecation got back together with Wes Weaver on guitars, but then he split off into his own band, Blaspherian. How do you see the two musical visions as similar, and how are they different?
I don't really know how to answer this one exept that Wes is a good friend and I fully support his endeavors with Blaspherian. The style that he developed with his time in Imprecation is present in Blaspherian, but I feel that his band has achieved its own vision and personality.
There's no other way to ask this but bluntly: is death metal coming back? It seems like we had a decade of mewling guitars and pig squeals, but now the old school is rising. If so, what do you think brought it back? Necromancy?
It does seem to be emerging once again, there are some really killer bands coming out true to the Death metal cult. I think it has come back to life simply because in metal people always go back to the old ways. Some of these kids are getting into what they perceive as Death metal because it is what they are told Death metal is. But when they hear the reference points such as Celtic Frost, Possessed, Morbid Angel, Deicide, Autopsy, Death, Bathory they realize that the shit they have been supporting like Job for a Cowboy and Slipknot is actually not Death, and all of a sudden they have a wealth of classics to feast on. I can't tell you how many times people tell me how refreshing it is to hear the sound that Imprecation has, and they always ask why more bands are not doing this style anymore. The truth is that there are some cults doing it right, and the Death metal scene is stronger now that it has been in a long time.
My only complaint is that there is a lot of bands that are embracing the true spirit of Death, but they are only imitating it rather than using it as a tool to explore their own path. There seems to be a shitoad of Incantation wannabes out there right now, and before that was a slew of Blasphemy clones. With that said I'd much rather hear these bands than the ones that are flooding the underground with their weak death-slam sounds, with the stop/go guitars and drum hits and pig grunts and squeals.
And I especially HATE those over-triggered drums, they have absolutely no power behind them.
The way you choose to write song titles and lyrics reminds me of 19th century literature, yet you've been alive exclusively in the 20th and 21st centuries (excluding reincarnations and avatara, I suppose). What books, poems, writings, etc. have been influential on you?
As far as poetry, I'm pretty limited on influences though I really dig the poems of Frost. The isolation in his work takes me to wonderous places. I also love the poems of Edgar Allan Poe, the hallucinations he emits with his words are fantastic. As far as books I admire the works of Crowley and Jack London. I also get into old Clive Barker stuff as well.
But I'm not going to lie to you and have you believe I have a wealth of books and am a big reader. It's not that I don't want to read, I just simply do not have the time in the day to commit to a book. Gilles de Rais from Teratism is releasing his own material right now, I just got a first edition of his book Black Magic Evocation of the Shem ha Mephorash and it's proving to be a great and interesting read. There is some killer, dark shit going on in that book!
Where did you record Satanae Tenebris Infinita and who produced it? Can you tell us what the title means? How do you feel it differs from previous Imprecation releases?
David: We recorded it at Big Door Studios in Webster, TX. The guy who owns the studio is a good friend of mine who goes by Mike BBQ, he's an excellent engineer and has a keen understanding of brutal sounds. I've been working with him for years, all of Bahimiron's albums were recorded there. What I like about him is he wants to bring out the natural sounds of the instruments and my voice, but also is not afraid to experiment from time to time.
The title of the album simply translates to The Infinite Darkness of Satan. The album was originally going to be called "Of the Black Earth", but our labelmates Maveth just released an album entitled "Coils of the Black Earth". Being that we also have a song on our album called "The coils of Eden" we just felt that there were too many similarities to release our album with that name. Of course we have much different sounds, but you catch my drift.
What's funny is that in 1992 I printed out shirts for the "Ceremony of the Nine Angles" demo with the phrase "Of the Black Earth" on it, as that was going to be the name of our album to be. 20 years later, Maveth beat us to the punch! I do, however, like the new title better. I think it fits with the vibe we had on our only other LP Theurgia Goetia Summa.
What's next for the band? Will you tour, or try to get "American Idol," or work on more material? Do you have other releases like splits or 7″ coming out?
Hahah, fuck that plastic show! No tours will happen, as we are all working guys with families to support. But there are shows coming up in Birmingham, New York, Philadelphia, and Boston this year. Looking forward to getting back up north in allegience with Signature Riff, Vinny runs a tight ship up there and is great to do business with. As far as upcoming material, we have a split 7 inch coming out on Dark Descent with none other than Blaspherian!
Thank you for taking the time to answer our questions. Please keep us informed about your news and events in the future.
Hails Brett! Thanks for all of the support you have given Imprecation throughout the years, all the best to you.