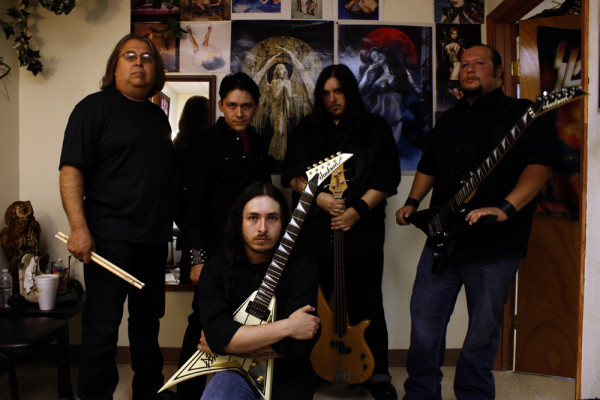 To those who have watched metal for some time, it presents a paradox. To the public, it seems like a railroad, where a line of cars stops and then we see what is in each, one at a time. To an experienced watcher, it more resembles an ocean, with currents swirling below and influenced by air above, and periodically the crest of a wave emerges before being dragged down by the rest, obliterated and recycled.
One of the warmer undercurrents in the metal ocean is "true metal," which is that which stays true to the solid line of evolution leading from metal's origin. As part of this movement, bands across the globe are continuing to make music that we associate with earlier decades, except that it's newly created and generated from a contemporary impulse if not contemporary influences. Cruxiter, a Texas heavy metal/guitar rock band, is part of this movement.
We first reviewed Cruxiter's self-titled first album in these pages a few scant weeks ago, but already the band's spirit and dedication to its style have piqued interest with our worldwide readership. To go more in-depth, we interrogated vocalist Joe Gonzalez at length via a very modern iPhone yet with classic heavy metal spirit.
You formerly played in Hammer Whore, a death metally band. What prompted the switch to a heavy metal style versus a death metal one?
HammerWhore was a big mix of a lot of metal genres; because each band member comes from different eras and has their own taste in metal music we had to compromise and we created an album that contained a bit from every sub genre. In 2007 HammerWhore broke up because of personal differences, so I kept some of the songs I wrote and started a new band that was more hard rock/heavy metal. In 2009 Miggy Ramirez and Rick Ortiz joined the band and this is really when we started to develop our sound. Then in 2010 we had personnel issues again losing our bassist, drummer, and guitar player. This is when we recruited the rest of the old HammerWhore line up to help us out. The "switch" to heavy metal just came naturally after spitting from HammerWhore and working with such a great group of musicians. I'm doing exactly what I've always wanted to do, and that's sing in and front a heavy metal band!
What is the Cruxiter? Is it a concept underlying all of your work?
The Cruxiter is a fictional alien computer that works through touch, connecting to the users nervous system and to the mind. The thing is, it doesn't quite work with human biology and drives anyone who attempts to use it insane, but the Cruxiter is only a small part of the Cruxiter universe. It's one of the few artifacts that we have here on earth from the faraway alien planet that is the subject of most of our music. So far we have not made contact with these extraterrestrials on our first album. First contact will be made on "Madness of the Void," a track that will be released on our next full length. A look at this faraway world is probably similar to seeing ourselves in the distant future where technological advances have only made life more complicated with longer life spans and more inventive ways to kill each other.
This is a two part question: (a) what are your influences, musical and otherwise, in Cruxiter? (b) what bands do you think sound closest to Cruxiter?
I cannot speak for the rest of the band because each of us is very different when it come to the style of music we listen to. But for me it's a combination of classic AOR, NWOBHM, eighties thrash and early seventies prog. Styx, Judas Priest, Lizzy Borden, Torch, Agent Steel, and Overkill were some of the first bands to really get me excited to pick up a guitar and sing. Really every time I hear a metal vocalist hit a high note or a guitar lead it really gets me going. As far as individual artists its Jon Oliva, Tommy Shaw & Dennis DeYoung, David Byron & Mick Box, Schmier, Tom Angelripper, Don Dokken, and Joey Tempest are all on the top of a very long list of talent that inspires me to play music.
The second part of your question is very hard to answer because we are trying to create something different but not straying from what we love. In my personal opinion I would say it's a mix between early King Diamond, early 90s Mercyful fate, Uriah Heep, Stryper, Judas Priest, Di'Anno era Maiden. We still have a lot of material that we are working on that I think is more advanced and widens the spectrum even more.
Do you think the "true metal" genres like classic heavy metal and old school death metal and black metal are making a return? Or did death metal and black metal get lost in the shuffle?
"Making a return" destroys the true metal genres and spawns craploads of bands that really don't know where the music comes from, then they make everyone look cheesy and people move on, which has already happened to thrash metal twice. All true metal genres have and always will thrive in the local and underground scenes. What genre is "in" at any given time is determined by what the "cool kids" are listening to, It's very political, and it will never change.
Cruxiter is a classic heavy metal band, but you incorporate a lot of elements from what I'm calling "guitar rock." How hard is it to combine the two?
It's actually pretty accurate for some parts of our music because we are very heavily influenced by progressive music and classic rock but we really try hard to mix it up and make the music we write contain all aspects of rock and metal music. With the tempo changes and melodies of classic prog, guitar riffing from rock and metal, and AOR style choruses, even trying to add a bit of glam to it all.
But each song we write is different and has its own massage so it's hard for me to explain it all without breaking down each song. Combining all these styles of music happens during the writing process… letting the song pretty much write itself, and allowing the changes to happen. It's the vocals and solos that are dominant, and take full control during the writing of the music. We do work hard on the proper flow of the song making sure it's chaotic and complex, keeps the listeners attention, and is pleasant to the ears. We also try to keep the music from being too heavy and noisy, down tuning and excessive kick drum is great for other bands but we like our listeners to hear without trouble how the guitars, vocals, drums, and bass interact musically.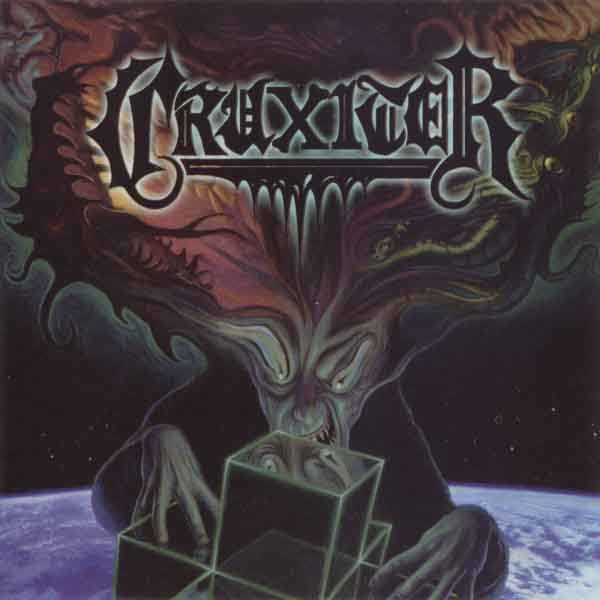 You've just released your first and self-titled album. How did you record it, and where? What were the biggest challenges of recording?
We recorded this album at our home studio in a ranch house in Jim Wells County just outside Alice, Texas. Every aspect of recording was a challenge since we really had no experience. I had to watch all kinds of how to videos on YouTube about mic'ing vocals, drums and guitar cabinets, it was a lot of trial and error. The best part of recording was reworking the songs after playback adding harmonies, fills, and leads. But we learned a lot from recording this album and we are currently in the studio again and everything is running smoothly. Our next album is going to sound a lot better for sure and we are pretty excited about it.
If you had to identify the most important element in what makes a good song, what might it be? Do you think it's energy, passion, emotion, content or some combination of the above?
A great song perfectly portrays a complex clash of emotions of a single moment in time with the appropriate energy pulsing and fluctuating between emotional highs and lows. It also needs guitar and vocal melodies that engrave themselves into the mind and the message and words find a spot to reside in listeners mind. Honesty goes along way when it come to reaching people through music.
What's next for Cruxiter? Are you going to do small tours through Texas cities, or record more, or go national?
Right now, we are back in the studio recording new music for a second album. Now that we have some experience it should move very smoothly and we will get an even better product. We should be releasing a few demo songs on YouTube and maybe a short demo tape soon. They will not be the album versions of the songs just demos before fine tuning the structure, vocal melodies, and fills. We have already released "Under The Moon" demo on YouTube.
We will probably not be playing very many shows this year since we will be trying to complete our work in the studio. But we are playing in Houston February 8th at the White Swan for our good friend Angel's B-day (bassist for Owl Witch). It's going to be a really killer show. Houston is the top place to play metal music in Texas the scene has always been very strong and diverse. I'm alway excited to play in Houston.
Are there any challenges to being a metal band in Texas, with the local scenes being what they are and the distances between towns often being great?
It is pretty hard here in Texas especially since we don't live anywhere near any of the major city. Corpus Christi is closest but they have no local metal scene and what's hitting there now is grind and crust which is great but we don't fit the bill. It's a struggle for us to be a part of the scene in texas since we are so far and can't participate in playing or attending shows very often. Playing gigs always means travel for us but its just part of the gig. Texas as a whole is full of die hard metal heads and familiar faces friends that will be playing music and supporting local shows till they die.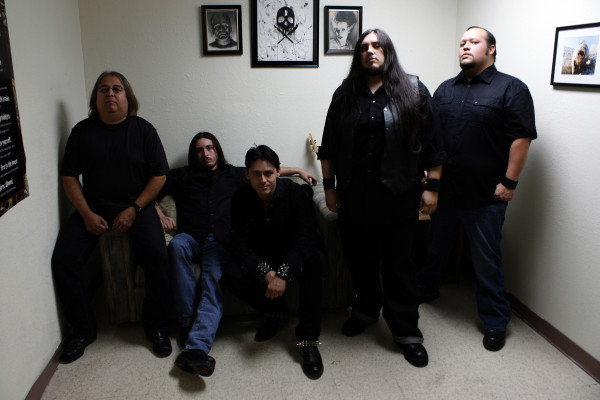 Tags: cruxiter, Heavy Metal, joe gonzalez