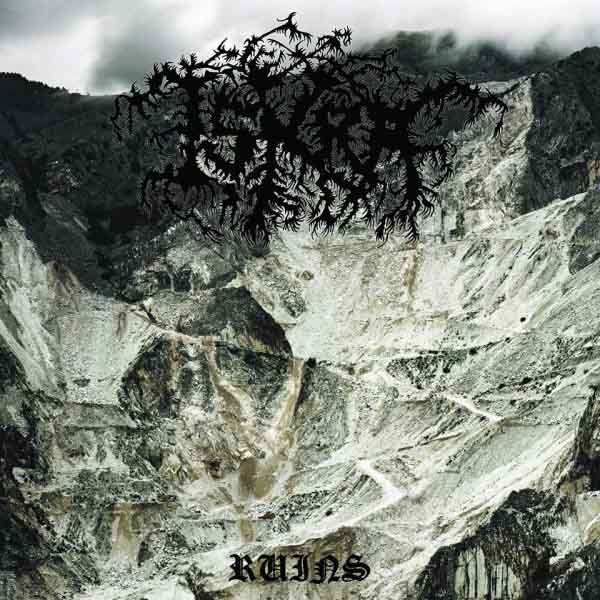 Another day, another pretender. Iskra claim to be black/crust, which is a nonsense genre in itself that insults both of its origins, but in actuality are more like an Angelcorpse style band with occasional flashes of melody and to avoid the un-PC Nietzschean narrative of black metal, lyrics about war and politics.
All of the above presents zero problem if well-executed, but the problem here is that Ruins is a collection of tropes from those genres held together by sheer momentum, which means that at the time of listening it is inoffensive but there is zero reason to pick it up. It is based on previous forms without injecting any essential spirit or direction of its. Like At the Gates Slaughter of the Soul, it is cleverly designed from a commercial perspective, in that underneath the fast tremolo riffs and breathless raspy howl the songs are very convention riff-chorus with one transition between what are essentially identical halves. Its other clever business strategy is realizing that people might enjoy a version of Angelcorpse that like Napalm Death Fear, Emptiness, Despair introduced a bit of melody and broke down the blitzkrieg drive into more recognizable song patterns.
Unlike most of these bands, Iskra do one thing well: they know when to break rhythm and transition tempo to avoid the monolithic wall of sound that war metal bands too often engage in, but they also miss the outsider perspective of crust and the atmosphere of black metal. If you were one of those people who were satisfied with all-ahead-go speed metal bands that did not write their own melodies, you will not be offended by this, but do not be surprised when it has a staying power measured in days and not weeks or years.
Tags: "blackcrust", iskra