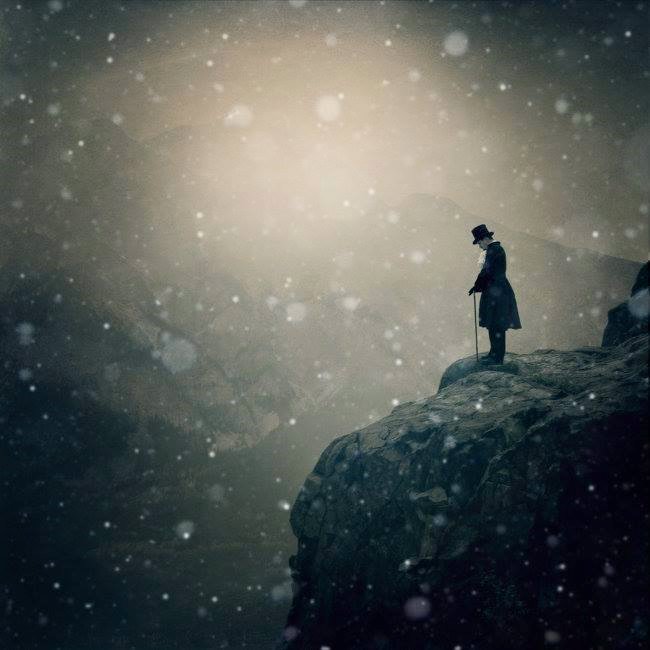 As part of our ongoing series of heavy metal topics, or rather the ideas that are the cause of the effect of choosing to make music that sounds like machinery re-enacting medieval warfare, we look into the isolation of modern humans.
Let us begin through the eyes of W.H. Auden (as suggested by M.J.):
The Unknown Citizen

(To JS/07 M 378
This Marble Monument
Is Erected by the State)

He was found by the Bureau of Statistics to be
One against whom there was no official complaint,
And all the reports on his conduct agree
That, in the modern sense of an old-fashioned word, he was a saint,
For in everything he did he served the Greater Community.
Except for the War till the day he retired
He worked in a factory and never got fired,
But satisfied his employers, Fudge Motors Inc.
Yet he wasn't a scab or odd in his views,
For his Union reports that he paid his dues,
(Our report on his Union shows it was sound)
And our Social Psychology workers found
That he was popular with his mates and liked a drink.
The Press are convinced that he bought a paper every day
And that his reactions to advertisements were normal in every way.
Policies taken out in his name prove that he was fully insured,
And his Health-card shows he was once in hospital but left it cured.
Both Producers Research and High-Grade Living declare
He was fully sensible to the advantages of the Instalment Plan
And had everything necessary to the Modern Man,
A phonograph, a radio, a car and a frigidaire.
Our researchers into Public Opinion are content
That he held the proper opinions for the time of year;
When there was peace, he was for peace: when there was war, he went.
He was married and added five children to the population,
Which our Eugenist says was the right number for a parent of his generation.
And our teachers report that he never interfered with their education.
Was he free? Was he happy? The question is absurd:
Had anything been wrong, we should certainly have heard.
Then let us turn to the poets of modern dissatisfaction, thrash band Dirty Rotten Imbeciles, first with the second song on their first LP, "Commuter Man":
I play Pac-Man and I watch T. V.
I'm so happy 'cause it pleases me
I couldn't really ask for anything else
Maybe my own chain of Taco Bells

I'm perfectly happy right where I am
I could live forever in a traffic jam
It doesn't really bother me to breath the poison air
I'd choke anyway, I don't really care

Sometimes I think about getting away for a while
But when I return I will be out of style
You may say I'm not an ambitious man
But let me tell you I've got some plans
Like there's a new car I wanna buy
And a video cassette recorder yet I'm not sure why
I wanna get married and have three kids
'Cause I'm lonely and I've got the hard dick
Commuter Man
Then detouring to a track from Four of a Kind:
Suit and tie guy
With his fashion phases
And his quarterly raises
Feels he's better than you and me

Suit and tie guy
Thinks he's real cute
In the bathroom for a toot
Until his nose starts to bleed

Suit and tie guy
I see he always hurries
I know he always worries
He's gonna die of a heart attack

Suit and tie guy
On his way to feeding
Or an important meeting
Just like a car on a track

Suit and tie guy
He travels between stations
With certain destinations
Never varying from that routine

Suit and tie guy
And he'll tell you in one word
That he is insured
And it's not as bad as it may seem
Then, to cap it off, a venture into the world of later Black Sabbath with their acidic (from Born Again) anthem "Zero the Hero":
Accept the fact that you're second rate life is easy for you
It's all served up on a gold plated plate
And we don't even have to talk to you
Your face is normal that's the way you're bred
And that's the way you're going to stay
Your head is firmly nailed to your TV channel
But someone else's finger's on the control panel

What you gonna be brother – Zero the hero
Don't you wanna be brother – Zero the hero
When you gonna be brother – Zero the hero
Impossibility impissibolity mother really a hero

You sit there watch it all burn down
It's easy and breezy for you
You play your life to a different sound
No edge no edge you got no knife have you
Your life is a six lane highway to nowhere
You're going so fast you're never ever gonna get down there
Where the heroes sit by the river
With a magic in their music as they eat raw liver

You stand there captain we all look
You really are mediocre
You are the champion in the Acme form book
But I think you're just a joker
Your freedom life ain't so much of a pity
But the luv-a-duckin' way you're walkin' around
The city with your balls and your head full of nothing
It's easy for you sucker but you really need stuffing
What do we see here?
"Good" things such as freedom, commerce, love and self-gratification shown as a path to emptiness, heat death of the inner self and entropy of the mind.
"Bad" things that we fear such as discomfort, risk, danger and violence as having an appeal as getting us out of the purported "good" state.
In the end, a species sprawling in excess and writhing in misery, unable to articulate this because it requires going against public opinion.
Sounds about right.
Tags: Apocalypse, emptiness, Heavy Metal, kali-yuga, spiritual black death