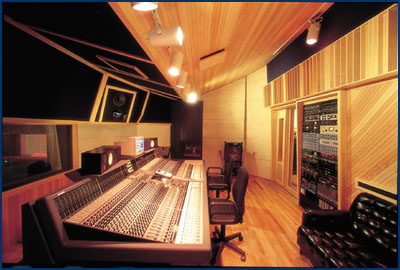 Contacts: Alex Perialas, Pyramid Sound Andy Adelewitz, PR consultant
Phone: 607.273.3931 Phone: 607.257.0455
Email: alex@pyramidsoundstudios.com Email: andy@adelewitz.com
Pyramid Sound, Where Timbaland, David Gray, Anthrax and Others Recorded, At Risk From City
Bridge Construction Supporters Organize Protests, Petitions To Save Successful Ithaca Recording Studio
ITHACA, N.Y., June 21, 2012 — The future of a world-class recording studio that has hosted recording sessions by David Gray, Anthrax, Ginuwine, Aaliyah, Bad Religion, Missy Elliott, Joe Bonnamassa, producers including Timbaland and Tom Dowd, Pulitzer Prize winning composer Steven Stucky, classical pianist Malcolm Bilson, and many others is under threat due to the City of Ithaca's poor planning of a bridge rebuilding project directly outside the studio walls.
Pyramid Sound, the studio operated for nearly four decades by producer/engineer Alex Perialas in downtown Ithaca, New York, has been unjustly condemned as of Tuesday, June 19, resulting in the devastating loss of a very successful business, and the potential destruction of its facility as the bridge construction gets underway.
After two years of asking for details of the construction plans and how they would affect his property, and being put off by then-mayor Carolyn Peterson and superintendent of public works Bill Gray, Perialas finally got an answer about when the project would commence when workers posted signs outside his studio warning the public that the street would close in two weeks. And as of yesterday, both the studio the separate storage garage next door, which Perialas also owns, have been posted by the city, after repeated promises from the
building department commissioner that they would not be; and no one, including Perialas, is allowed in.
Additionally, the building department employee who posted the building yesterday informed Perialas that the city had found his building condemnable two years ago, in the early planning stages of the bridge reconstruction. Perialas was unaware that an external inspection of his property had happened, and was never informed of the finding, leading to at least the appearance that he was deliberately kept in the dark until it was too late to mitigate problems with his facility, allowing the city to save money by condemning his property rather than compensating him under eminent domain or amending the unnecessarily aggressive construction
plans.
It marks the latest, and most grievous, in a series of bad-faith dealings with Perialas by the City of Ithaca. The story begins in 2004, when construction of a municipal parking garage across Clinton Street from Pyramid began. Seismic vibrations from that project resulted in cracks in the walls of the garage and studio buildings,
causing some damage. He complained to the city at the time, but was unable to see the fight through because he was simultaneously caring for his ailing father.
In May of this year, after being stonewalled by city officials for two months, Perialas received a report from a third-party structural engineer hired by the construction contractor in May. The report found the storage garage, which was closest to the bridge construction, to be in poor condition, and the external walls of the studio building itself to be in poor-but-stable condition; the method of pile driving that would be used on the bridge project would likely cause the nearest garage wall to collapse, representing a danger to occupants and the public. However, this report came two weeks after the bridge project was started, leaving Perialas with no
time to repair or reinforce his buildings. Yet the City of Ithaca has offered Perialas no meaningful compensation or assistance, and has refused to delay the project or issue a change order instructing the contractor to use an alternate, less aggressive method of pile driving that would not represent so great a threat to this thriving business.
After several meetings with new mayor Svante Myrick, Perialas was finally offered just $20,000 from the city to help cover the cost of reinforcing the garage wall. But that offer came just a day before drilling to prepare holes for the pile driving was scheduled to begin — too little, too late. And it came with the unacceptable
condition that Perialas indemnify the city against any further damages to his property caused by the bridge project.
Now that the buildings have been posted, Perialas is left with a slew of recording and mixing commitments that he's unable to complete, as well as millions of dollars' worth of sensitive equipment that he's unable to check on or maintain. For example, the studio's mixing board could overheat easily if the facility's air
conditioning system were to fail, potentially causing a catastrophic fire; but with the building condemned, no one is able to monitor the studio's climate conditions.
Perialas makes it clear that he's not opposed to the bridge project in general, merely the way it's been planned and executed without any timely consultation with him, despite his many inquiries over the last two years.
"There's no doubt that this work is needed," Perialas told the local weekly newspaper The Ithaca Times last week. "My concern is how it's been handled. Normally when you do a project of this nature, you work with the property owner to deal with loss of business or interruption of business. You deal with them to talk about how
you're going to shore the building if there's going to be an issue, and none of that's happened. The only thing that's happened is that I've had to raise my voice, unfortunately, which I don't really want to do. I'm not anti this project. I'm anti-the planning of this project."
Perialas and his team have received vocal support from hundreds of local musicians and music fans who are horrified by the prospect of this historic local institution being shuttered, especially under such heartless circumstances. Two Facebook pages organized by supporters in order to protest the city's disrespect and inaction have attracted more than 1,300 members between them, and led to the organization of a protest last week at the mayor's parking space outside City Hall.
And an online petition urging Myrick to "do all in his power to ensure Pyramid Studio be fairly compensated for any and all lost business and possible relocation costs due to this bridge construction project" has received more than 600 signatures and counting.
In addition to signing the petition, supporters of Pyramid Studios (and of the rights of responsible business owners in general) are urged to contact City of Ithaca officials including mayor Svante Myrick (607.274.6501, svante@myrickforithaca.com), superintendent of public works Bill Gray (607.274.6527, email his executive assistant Kathy Gehring at kgehring@cityofithaca.org), building department
commissioner Phyllis Radke (607.274.6508, pradke@cityofithaca.org) and city attorney Aaron Lavine (607.274.6504, attorney@cityofithaca.org) to courteously express their support for the survival of Pyramid as both a local institution of international renown, and a successful local business deserving of respectful, good
faith negotiation, and fair compensation for damaged property and lost business.
More information in recent local media coverage:
WENY-TV (ABC affiliate in Elmira, NY)

The Ithaca Times (weekly):
http://www.ithaca.com/news/ithaca/article_00af9f6e-b4e6-11e1-bd5b-0019bb2963f4.html
YNN (local TV news):
http://centralny.ynn.com/content/top_stories/588030/future-uncertain-for-pyramid-sound-studios/
ALEX PERIALAS / PYRAMID SOUND SELECTED DISCOGRAPHY
Pop/Hip Hop/R&B//Rock/Blues
Year Album Artist Role
1984 Live at the Inferno Raven Engineer
1985 Speak English or Die S.O.D. Producer, Engineer, Mixing
1986 Slow Train Savoy Brown Engineer, Mixing
1987 Legacy Testament Producer, Engineer, Mixing
1987 Power Chords, Vol. 1 Various Artists Producer
1988 New Order Testament Producer, Engineer, Mixing
1988 State of Euphoria Anthrax Associate Producer, Engineer
1989 Practice What You Preach Testament Producer, Engineer, Mixing
1990 When The Storm Comes Down Flotsam & Jetsam Producer, Engineer, Mixing
1991 Deeper Into the Vault Various Artists Music Coordinator
1992 Foul Taste of Freedom Pro-Pain Producer, Engineer, Mixing
1992 Live at Budokan S.O.D. Producer, Engineer, Mixing
1993 I Hear Black Overkill Producer, Engineer, Mixing
1993 Substance & Soul Last Tribe Producer, Engineer, Mixing
1995 Belladonna Joey Belladonna Producer, Engineer, Mixing
1995 Concept Sam Rivers Mastering
1995 Under Pressure Such a Surge Producer, Engineer, Mixing
1996 Ginuwine…The Bachelor Ginuwine Engineer, Assembly
1996 Sell, Sell, Sell David Gray recorded at Pyramid
1996 Metal of Honor T.T. Quick Producer, Engineer
1996 Oz Factor Unwritten Law Engineer
1997 Signs of Chaos: Best of Testament Testament Producer, Engineer, Mixing
1998 No Substance Bad Religion Producer, Engineer
1998 Step Beyond Without Warning Producer, Engineer, Mixing
1998 Wrong Side of Memphis Johnny Dowd Re-mastering
1999 Ginuwine The Bachelor (Bonus CD) Ginuwine Engineer, Assembly
1999 Pictures from Life's Other Side Johnny Dowd Mastering
2000 Bronx Casket Co. The Bronx Casket Co. Mixing
2000 Looking Up Cooter Mastering
2000 New Day Yesterday Joe Bonamassa Producer, Engineer, Mixing
2000 Phubar Phungusamungus Mastering
2000 Positive Friction Donna the Buffalo Mastering
2000 Red Is the Color Sunny Weather Mastering
2000 This Day John Brown's Body Engineer
2001 Best of 2001 Edition (Master Series) Pro-Pain Producer, Engineer, Mixing
2001 Faust Original Soundtrack Producer
2001 Hillside Airstrip 10 Foot Ganja Plant Mastering
2001 Legends of the Nar Dead Cat Bounce Mastering
2001 Temporary Shelter Johnny Dowd Engineer, Mastering, Mixing
2002 Allophone Addison Groove Project Mastering
2002 EP Sunny Weather Engineer, Mastering, Mixing
2002 Into the Unknown Double Irie Mastering
2002 Live From the American Ballroom Donna the Buffalo Engineer, Mastering, Mixing
2002 Pawnbroker's Wife Johnny Dowd Mastering
2002 Punk Rock Songs: The Epic Years Bad Religion Producer
2002 Sing Desire Jennie Stearns Engineer, Mastering, Mixing
2003 At First Sight Pete Pidgeon Mastering
2003 Farewell The Dent Producer, Engineer, Mixing
2003 Wait Til Spring Donna the Buffalo/Jim Lauderdale Engineer
2004 Bigga Than It Really Is GFE Engineer, Mixing
2004 Home Speaks To the Wandering Dead Cat Bounce Mastering
2004 Radioman Dwight Ritcher Mastering
2005 Life's a Ride Donna the Buffalo Producer, Engineer, Mixing
2006 Each New Day Sim Redmond Band Mastering
2006 In Flight Radio In Flight Radio Producer, Engineer, Mixing
2007 W.O.A. Full Metal Juke Box, Vol.2 Various Artists Producer
2007 Conch moe. Engineer
2007 Again We Bleed God Size Hate Mixing, Mastering
2007 Heavy Metal [Box Set] Various Artists Producer
2007 Burning at the Speed of Light Thrasher Mixing, Engineer
2007 Heavy Metal Box [Rhino] Various Artists Producer
2007 Standing the Test of Time Attacker Producer
2008 Drunkard's Masterpiece Johnny Dowd Mastering
2008 Ginuwine…The Bachelor/100% Ginuwine Engineer, Assembly
2008 Until the Ocean The Horse Flies Engineer
2008 Room in These Skies Sim Redmond Band Mastering
2008 Aneinu! Hasidic Orthodox Music Moshe Berlin Mastering, Re-mastering,
Editing
2009 Machines of Grace Machines of Grace Engineer
2009 Infidel At War Producer, Engineer
2010 Bitten by the Beast David "Rock" Feinstein Mixing
2011 I Put My Tongue On Window Boy with a Fish Overdub Engineer
2012 Performing The Score Malcolm Bilson/Liz Field Engineer, Mixer, Post Production supervisor
2012 No Regrets Johnny Dowd Mixing, Mastering
2012 The Blind Spots The Blind Spots Producer, Engineer, Mixing
2012 Late Last Summer Dick &Judy Hyman Engineer, Mixing, Mastering consultant
Classical
Year Album Artist Role
1976 Like A Duck to Water Mother Mallard's Portable Digital Mastering
1983 Anatidae David Borden's Mother Mallard Producer, Engineer
1997-2006 Selected live performances and recording sessions for Cornell Glee Club and
Female Chorus Engineer, Mixing, Mastering
1997 Echos From the Walls Cornell Glee Club Engineer, Editing, Mixing, Mastering
1999 1970-1973 Mother Mallard's Portable Producer
2001 High Rise Xak Bjerken Engineer, Mixing, Mastering
2002 Liberación Amy Glicklich Recorded, Engineer, Mixing,
Mastering
2004 In Shadow, In Light: Music of Steve Stucky Ensemble X Engineer,
Editing, Mixing, Mastering
2005 Judith Weir: The Consolations of Scholarship Ensemble X
Engineer, Editing, Mixing, Mastering
2007 Midnight Prayer Joel Rubin Digital Editing, Mixing, Digital
Mastering
2007 Under The Bluest Sky David Parks Engineer, Mixing, Mastering
2011 The St. Petersburg Chamber Philharmonic Engineer, Mastering
2011 Horn Muse CD Gail Williams Engineer
Television Credits
Year Show Channel/Institution Role
1999 Swiftwater Rescue Discovery Pictures Engineer, Mixing
1999 Wildlife Legacy Turner Original Productions/National Wildlife Federation Engineer, Mixing
1999 Wild City Turner Original Productions/National Wildlife Federation Engineer, Mixing
1999 The Legends Series Turner Broadcasting Engineer, Mixing
2000 Detonators: Sheer Force BBC Engineer, Mixing
2001 True Colors Learning Channel Engineer, Mixing
2005 The Cultivated Life: Thomas Jefferson & Wine Madison Film, Inc. Engineer
Film Credits/DVD
Year Film Producer/Company Role
1998 A Stranger In the Kingdom Kingdom County Productions Engineer, Mixing
2002 The Year That Trembled Kingdom County Productions Engineer, Mixing
2012 Performing The Score Malcolm Bilson /Liz Field Engineer, Mixer, Post Production
supervisor
Live Recordings
2000 – present:
Adam Day, Amy Glicklich, Atomic Forces, Aurelio Martinez, Avett Brothers, Bad Dog, Dalfa Toujours, Ballake Sissoko, Bamboleo, Ben Suchy, Big Leg Emma, Black Castle, Blackfire, Bobbie Henrie & the Goners, Boubacar Traore, Boy With A Fish, Bubba George, Buvas, Calico Moon, Campbell Brothers, Cary Fridley, Cherish the Ladies, Christina Ortega, Cletus & the Burners, Crow Greenspun, Cypher:Dissident, Cyro Baptista & Beat the Donkey, D'Gary, December Wind, Donna the Buffalo, John Anderson, John Brown's Body, John Specker, Johnny Donegan, Johnny Dowd, Jones Benally&American Indian Dance Troupe, Joules Graves, J-San & the Analogue Sons, Kanenhio Singers, Kathy Ziegler, Keith Franks & the Soileau Zydeco Band, Kekele, Kusun Ensemble, Life, Little Egypt, Lonesome Sisters, Los Lobos, Los Pochos, Lunasa, Mamadou Diabate, Mary Lorson & Saint Low, Mecca Bodega, Michael Franti & Spearhead, Miche Fambro, Minnies, Moochers, Moontee Sinquah, Musafir, Nedy Arevalo, Oculus, Old Crow Medicine Show, Squirrels, Paso Fino, Patty Loveless, Perfect Thyroid, Plastic Nebraska, Preston Frank & His Zydeco Family Band, Project Matsana, Ramatou Diakate, Randy Whitt & the Grits, Red Hots,
Red Stick Ramblers, Revision, Rickie Lee Jones, Ritsu Katsumata, Rockridge Brothers, Rodney's Nigh, Rokia Traore, Ronnie Bowman and the Committee Rusted Roof, Samite, Scotty Campbell & Zydeco Experiment, Shane & Diana, Sillanpaa Family, Sim Redmon Band, Slo-Mo, Snake Oil Medicine Show, Solas, Son de Madero, Steve Riley & the Mamou Playboys, Sujata Sidhu, Sunny Weather, Susana Baca, The Believers, The Blue Rags, The Burren, The Buvas, The Campbell Brothers, The Del McCoury Band, The Duhks, The Fierce Guys, The Flying Clouds, The Hix, The Horse Flies, The Lonesome Sisters, The
Mahotella Queens, The Meditations, The Overtakers, The Red Hots, The Splendors, The Super Rail Band, The Sutras, The Thins, Thomas Mapfumo, Thousands of One, Ti Ti Chickapea, Tonemah, Trevor MacDonald, Walter Mouton & the Scott Playboys, Wingnut, Yo Mama's Big Fat Booty, Zydeco Experiment.
# # #
http://www.pyramidsoundstudios.com/
Contacts:
Alex Perialas, Pyramid Sound
Phone: 607.273.3931
Email: alex@pyramidsoundstudios.com
Andy Adelewitz, PR consultant
Phone: 607.257.0455
Email: andy@adelewitz.com