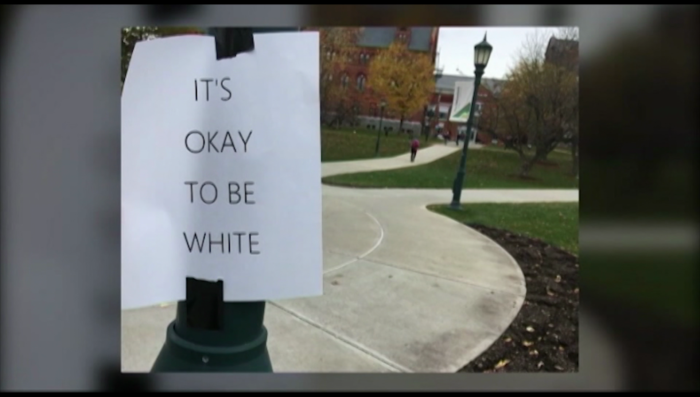 Political YouTuber Finntronaut has uploaded a silly new metal song and video themed after the "It's Okay to be White" prank that violently triggered thousands of snowflake liberals earlier this season.  While the song is not exactly good, it's a pretty funny take on how ridiculous this culture war has gotten lately here in the U.S.A.  Thematically the video takes no political position- it's just a bunch of goofy satirical visualizations overdramatizing the racial/cultural tensions of this age.
For those who are too old or too useless to know what's going in our nation outside of NBC news, the "It's Okay to be White" prank started with some 4chan trolls leaving up fliers around campuses that said nothing other than "It's Okay to be White."  As predicted, nu-males and trans-mutants went into a hysteria over how offended they were by the obvious racial malice.  It wasn't long before liberal news outlets everywhere were throwing feces at each other about how racism is spreading on college campuses. Bottom line- the situation proved to be an interesting case study on how out of control liberal self-victimization has gotten.
For a visual representation accompanied by some D-grade metal, see below!
Tags: 4chan, alt-right, It's Okay to Be White, metal, nu males, pranks, racism, snowflakes, youtube