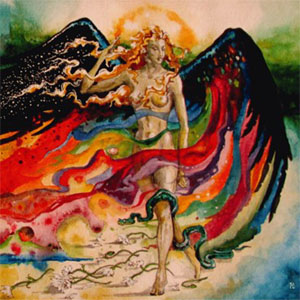 Coming at you straight out of an alternate version of 1964, Jess and the Ancient Ones sound like a fusion between fifties crooner music and sixties rock, but with a twist: this music is based on occultism, the renewal of souls, and an epic spiritual war splitting heavens and earth.
Vocalist Jess dominates the music with her arched and elegant vocals which possess a strength and sultry timbre not found in many singers past the 1970s. She belts out these songs with a conviction and yet a subtlety which is reminiscent of Abba and Nancy Sinatra.
Guitar work by the three wizard guitarists in this band is subtle and supports the vocal role in defining each song, either through subdued chord strumming that is just offtime enough to induce a dreamlike haze, or lead fills that churn momentum behind the vocals.
When this came on the MP3 shuffle, I was convinced it was 1960s material and had to double-check the name immediately thereafter. The quality of vocal melody and self-assured minimalism and proficiency of the guitars and drumming makes this band seem otherworldly to the musical offerings now, which aren't as "musical" and definitely aren't as confident and interesting.
The biography claims that "JATAO draw inspiration from heavy metal and rock groups of the classic era, such as Mercyful Fate, Roky Erickson, Iron Maiden and Abba." The Roky Erickson and Abba stand out the most. It's probably a mistake to pitch this to a metal audience, since the type of person who will immediately enjoy this 1950s underworld vibe would be a Misfits or Lou Reed fan, although just about anyone who likes good songwriting and strong performance will get into it if they give it a chance.
These three songs, one of which is a cover of "Long and Lonesome Road" from Dutch band Shocking Blue, just whet the appetite. Look to 2012's debut album from this band for more of this material, but they seem to be growing into their sound and being unabashedly less metal/rock and more progressive with every release.
1. Astral Sabbat (6:27)
2. Long and Lonesome Road (3:10)
3. More Than Living (14:48)
Length: 24:25