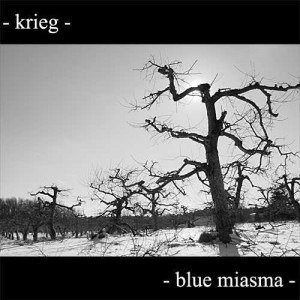 According to frontman Imperial, Krieg have unearthed the original recordings of the Blue Miasma album, without samples, and are going to use this heavier mix for the re-issue of the album. Imperial mentioned this in a Facebook post detailing the discovery.
Imperial said, "The original unmastered with no samples mix of Blue Miasma has been unearthed thanks to Jeff Marcheski and will have some minor additions to it for the reissue of the album. This original mix was heavier and dirtier than the one that got released and, to me at least, sounds better."
While the original Krieg release was improvisational chaotic black metal, the band had drifted into more modern metal influenced styles over the past decade as Imperial and other members collaborated with indie-rock-hybrid black metal bands and took influences from the experience. The latest developments are part of an ongoing arc back toward traditionalist black metal ethos for this band.
Tags: Black Metal, black punk, indie-black, krieg