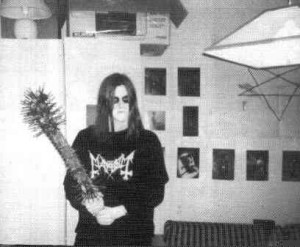 Burzum composer Varg Vikernes has posted a "goodbye" to his old self as a metal composer and in a sentimental posting, announced his retirement from metal and his intent to pursue ambient music alone.
Burzum appeared from nowhere in 1991 with a demo tape made up of a dozen guitars-and-bass-only tracks in rehearsal quality. I made a few more or less successful metal albums, but they all always included at least some ambient music. With time I moved further and further away from metal, and today only the ambient music remains. Today (2013) I think I am done playing metal music for good.

Many of you followed Burzum through the years, some even from the beginning, and I think metal-Burzum deserves a proper "good bye". So, just like I started out I will finish metal-Burzum with a guitars-and-bass-only track in rehearsal quality. "Back to the Shadows" is made up of the last metal riffs I ever made (in 2012). It was never released in any way, or recorded (beyond what you hear here), and it will not either — beyond this short "video".

Take it for what it is; a sentimental good bye to metal-Burzum.

The music is playing with an image of the 17 year-old me, taken from the time when some of the first Burzum tracks were made. You can see this track as a good bye to that fellow too.
For those of us who have been watching Burzum and Vikernes over the years, this is a welcome development. Heavy metal is beautiful but it will always be attached to popular conceptions of entertainment. Ambient music, especially complex material, gets treated as culture.
While we hope to change that perception of metal and to have it be studied as art and part of culture, that's an uphill battle when the fans routinely rush to gimmick bands and depthless clones in a hope to be part of the next popular trend.
Either way, this bodes well for more interesting compositions in Burzum's future.
Tags: Black Metal, burzum, dark ambient