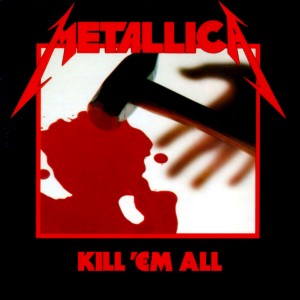 A reader writes with a few questions:
Why is Metallica's debut classified in your website as Speed Metal and not Thrash Metal? What defines Thrash Metal and why are Metallica and Kreator placed under Speed Metal? The second question really being what defines Speed Metal?
What is speed metal? Speed metal is the music formed of the hybrid of NWOBHM and punk music. NWOBHM itself was a fusion of Black Sabbath and the "metal-like" hard rock genres of the time, including some progressive rock, given an underground and DIY outlook. The definitive speed metal album is the first Metallica work, but we could also look to Overkill, Nuclear Assault, Anthrax, Megadeth, Testament and Prong.
What is thrash metal? A marketing term for "speed metal." Some argue that it's a separate genre, namely speed metal with "broken beats" or d-beats, but the fact of the matter is that the d-beat-influenced drumming was already part of speed metal. Musically, anything regarded as "thrash metal" is speed metal. Hence use of that term instead.
Now, as to Kreator — why is it speed metal? Kreator is on the line between speed metal and death metal but ultimately has more in common with later speed metal like Destruction and Sodom than it does with outright death metal. It was a previous generation to the music that expanded in the late 1980s through early 1990s.
What is thrash? Thrash is a hybrid form of heavy metal and punk music preferred by thrashers, i.e. skaters. This music evolved out of the explosion of punk music at the end of the 1970s and the tendency of bands like Discharge, Amebix, The Exploited, the Cro-Mags and others to take on metal riff-styles, especially as inspired by Slayer and other heavily punk-influenced bands. However, many thrash bands used riff influences from NWOBHM or before, with Black Sabbath being prominent.
The reason we separate speed metal and thrash is that they are different movements. Speed metal is metal that incorporates some aspects of punk; thrash is a metal/punk hybrid that generally uses punk song structures and metal riffs, laying the groundwork for grindcore. There's also no point in expanding the speed metal franchise into many different sub-types when all are essentially musically identical.
Tags: metallica, Speed Metal, thrash metal