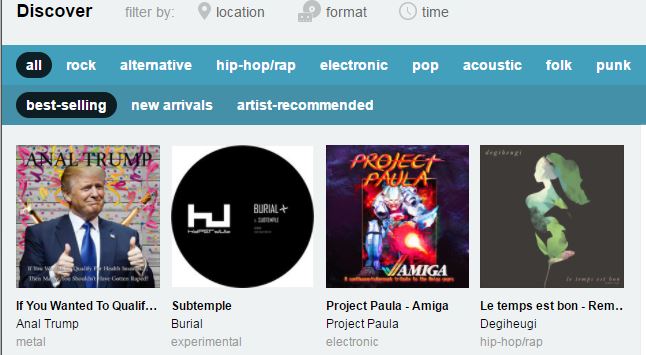 A massive amount of gullible liberal retards have fallen for a masterful charity deception running on Bandcamp via a "grindcore band" called Anal Trump. The band's new album If you Want to Qualify for Health Insurance, Then Maybe You Should Have Gotten Raped? currently is the service's top selling album despite the entire album being less than 60 seconds and offering virtually no music content. Priced at $5.00 (though users are able to pay more), the band claims 100% of "net proceeds" will be donated to the charity RAINN. This is in fact a cleverly worded deception as Bandcamp's payout model takes 15% of all sales plus a processing fee (varying based on the amount), meaning that instead of donating $5.00 directly to the charity and getting nothing in return, users are donating $3.95 to the charity and $1.05 to Bandcamp and getting nothing in return.
This is a hilarious moment for conservative music fans on so many levels. First, it completely discredits the journalism and intelligence of Axel Rosenberg of liberal media conglomerate Metalsucks who said in a glowingly praising article that the album is "the best 5 bucks you could spend this weekend" and called the band "prolific" despite being virtually absent of musical content. In addition to that, it brilliantly articulates how easily fooled the liberal millennial masses are by anti-Trump propaganda as they are buying virtually nothing despite being drowned in debt and facing a rising cost of living. Most importantly, it exposes the entire leftist grindcore genre for being a servant of corporate masters that markets protests while the very forces it's protesting are laughing all the way to the bank.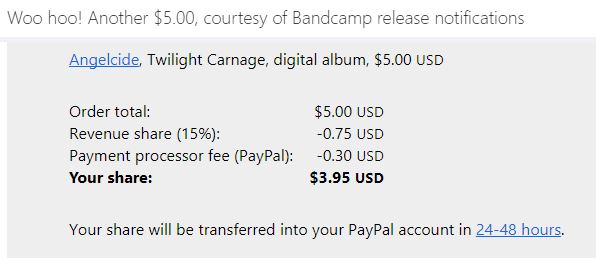 It's incredible that the band itself doesn't even realize that they're deceiving the movement that they think they're fighting for into corporate lobbying and directly funneling charity funds to the Bandcamp Inc. corporation. Just when you think this liberal wave of regression could not get any more comical another situation like this arises. Are they even trying anymore?
Tags: anal trump, bandcamp, donald trump, economics of metal, Grindcore, metal economics, MetalSucks, scam, sjw metal, sjws, social justice warriors