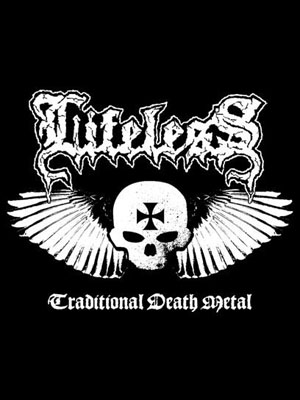 When you review underground metal these days, bands skim across your desk like frisbees flung by absent-minded demons. Most of them skitter and disappear over the other side as you listen, realize it's about the same, and then move on. Others stick around because they've got some spirit or animating force that makes them stand out, and motivates them to write better music.
One such recent discovery is Germany's Lifeless. Sounding like a cross between Carnage and Unanimated, this Swedish-style death metal band pound out songs of crunchy riffs interspersed with nocturnal melodies that convey both emptiness and satisfaction with the potentiality of that state. It is adventure music for those who would leave behind the comforts of modern society and explore the abyss.
Lifeless released Godconstruct a few days ago, and while this album is just beginning its arc through the metal media, we were fortunate to get a few minutes with guitarist/vocalist Marc Niederhagemann answering a few questions about what it's like to be Swedish death metal from Germany in 2013.
You're from Germany and you play brutal but melodic Swedish-style death metal. How many times a day do you get compared to Fleshcrawl?
Well, in general we are not really compared to them but often mentioned as usurpers of their throne, ha, ha. But Germany is big enough for more than one band doing this kind of music. Fleshcrawl are a cult act from the 90´s beyond any doubts. Sven even did some guest-vocals on our song "Sworn to death", so everything´s fine.
Although the mechanics of your guitar playing and production are more like Swedish heavyweights Carnage, there's a lot of classic metal using melodic harmonization from the Iron Maiden school in your work, like Dissection or the second album from Unanimated. Are these influences? Can you tell us what else influenced you?
Of course there are various influences. The old Swedish, American and British DM bands from the early 90s. The all time classics like Maiden, Slayer, Metallica etc. And of course bands like Dissection, Unanimated and Necrophobic who did such a fucking great job in combining Death and Blackness as well. Sound-wise one could easily say we are just a Swedish styled OSDM band but if you listen closely there are all these influences in there too.
Is it hard being a death metal band from Germany? Your country is renowned for its excellent power metal, thrash and speed metal, but fewer death metal bands. How did you end up taking the death metal path, instead of going another way? Are you able to have a local fan-base?
The DM scene here in Germany is quite big and there are a lot of bands too. You are right, in the 90s heyday Germany played just an inferior role in the DM scene but nowadays there are a lot of great new DM acts coming from Germany. Sulphur Aeon, Chapel Of Disease, Deserted Fear, December Flower… the list goes on and on. And there is a big fan base for these bands and their music too.
A fan hearing one of your songs for the first time might first expect them to go in a more brutal death metal direction, but like a Kinder Egg(tm) your songs unfold to have a melodic center. How do you write a song like this — do you start with a melody, an idea, or just a fistful of entrails and a beer?
Well, in general there is no masterplan for us how to write songs. I catch my guitar and play around. Some cool riffs come up that might fit together. If there are enough riffs that could match together for a song, everything is arranged and completed in the rehearsal room by the whole band. Some riffs are added, some melodies come up. Everything comes kind of naturally. Step by step until there is this special feeling that everything´s fine as it is.
Do you think the death metal genre has a values system, or an idea behind it? What makes it different from other styles of metal, and why
is it that some bands seem to "get it" and others do not?
No, there is no special value system behind it I guess. Not in the sense of a movement or the like. I think DM is just honest and pure music. Despite the commercial heyday in the early 90s it has always been a passion to those who are into DM. Fans and musicians. In my opinion DM-heads stay always the passionate kids who just enjoy the whole thing with a kind of childish excitement. Despite of their true age, ha, ha…
If bands don't "get it" they probably lost exactly this kind of childishness. Dunno…
Do you think death metal is dead, buried under these new more "hardcore" style bands, or do you think it still lives? What made you decide to go against trends and release an old school death metal album, instead of a nice lucrative power metal or metalcore album?
DM has never been dead and it never will be. After being trend it just shrunk and recreated in the underground. Nowadays it´s back with the same power and a lot of new stunning bands. Lifeless was intentionally founded to play OSDM. Modern stuff was never an option. Music should be passion, not trend. If you found a band to jump up on a trend you didn´t get what art, culture and the rebellious force from wich styles like Metal came from are about. If you see music just from a commercial point of few or if you just want to be famous, you should better do Pop-music or some other superficial shit…
What's it like to experience Lifeless live?
Four aged kids rocking a stage, ha, ha… we rather bang our heads and move on stage than to play everything perfect. Playing live should be just fun for both sides, band and fans…
What are you looking forward to in the future? More tours, more recording? Think you'll make it to see us in Texas (land of sheep-love and inbreeding)?
Yes, more tours/gigs/festivals of course. The next album to be released in about two years. Of course it would be great to make it to Texas/the US… we´ll see…
In the Swedish death metal style, what are the essential releases you think everyone should own? I use the term "style" because not all of these bands are from Sweden or even close!
Entombed – Left hand path/Clandestine
Dismember – Everything
Unleashed – Where no life dwells/Shadows in the deep
At the gates – Slaughter of the soul
Dark Throne – Soulside Journey
Grave – Into the grave/You´ll never see
Desultory – Into eternity/Bitterness
Edge Of Sanity – The spectral sorrows
And so on… too many to mention 'em all, ha, ha…
What's your advice to new bands starting out now who want to make quality metal and put their mark on the metal universe?
Stay yourselves and don´t give a shit about trends and what people think what is right or wrong for you. If you have skills and talent for songwriting being authentic is the most iportant thing in Metal. Don´t try to be something you aren´t.
Thanks for taking the time to consider our questions. Our readers appreciate the responses, as do I.
Thanx for this interview and all your support. See you hopefully soon on a stage nearby…