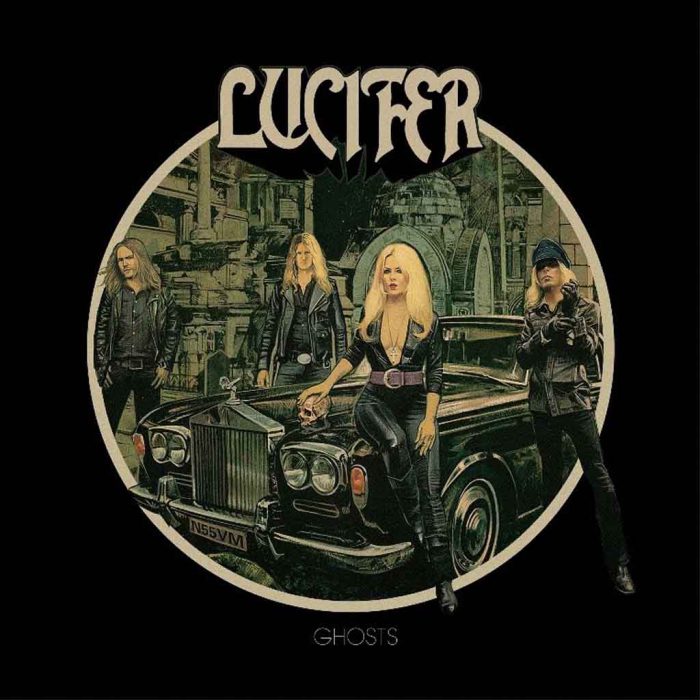 Like most of the death metal crowd, Nicke Andersson reverted to his hard rock and 70s stadium rock roots after participating on a few classic death metal releases. Once you have said the vital portion of your worldview in musical form, you are forced to articulate it, which is less fun than the unformed but emerging image.
In other words, "nothing gold can stay." Moving on, like Quentin Tarrantino, Andersson found a fecund field in the chaotic hybrid of 1970s music which mixed many threads of culture into a kind of desperate end-of-the-world bravery that was still designed to fit into a mainstream, albeit a broader one.
His newest project, Lucifer, fills out that 70s sound with modern and intermediate influences ranging from Danzig through mid-70s progressive rock, but distills it to the same kind of technical but listenable rock that rang from the rafter on Radio Shack speakers throughout the 1970s.
"Ghosts," the most recent release from the upcoming LP Lucifer III, shows the influence of melodic hard rock and even the disco-influenced upbeat sounds of the 1970s under a melodic vocal which ties it together with an epic chorus. If you wish Styx, Slade, Kiss, and Foreigner were still releasing albums, this might satisfy the hope.
Lucifer III will see release on March 20th via Century Media Records.
Tracklist
Ghosts
Midnight Phantom
Leather Demon
Lucifer
Pacific Blues
Coffin Fever
Flanked By Snakes
Stay Astray
Cemetery Eyes
Lineup
Johanna Sadonis – vocals
Nicke Andersson – drums
Alexander Mayr – bass
Martin Nordin – guitar
Linus Björklund – guitar
Tour
North America Part III Tour
w/Savage Master, Overdose
January 24 – Jacksonville, FL – 1904 Music Hall
January 25 – Miami, FL – Churchill's Pub
January 26 – Orlando, FL – Will's Pub
The Third Commandment Europe 2020 Part I Tour
May 7 – Hamburg DE, Knust
May 8 – Essen DE, Turock
May 9 – Köln DE, Helios 37
May 10 – Den Bosch NL, Willem Twee
May 12 – London UK, Underworld
May 13 – Paris FR, Petit Bain
May 14 – Strasbourg FR, La Laiterie
May 15 – Kaiserslautern DE, Kammgarn
May 16 – Nürnberg DE, Hirsch
May 17 – Praha CZ, Nová Chmelnice
May 19 – Poznan PL, U Bazyla
May 20 – Dresden DE, Scheune
May 21 – Berlin DE, Lido
May 22 – Hannover DE, Bei Chez Heinz
May 23 – Odense DK, Posten
May 29 – Stockholm SWE, Debaser Strand
May 30 – Göteborg SWE, Pustervik
Festival Dates
March 11 – Härnösand SWE, Novembeer Fest
Apr 23 – Tampere FIN, Klubi,
Apr 24 – Helsinki FIN, DesertHel Festival,
July 11 – Great Yarmouth UK, Hard Rock Hell
Tags: 1970s, hard rock, lucifer, Nicke Andersson