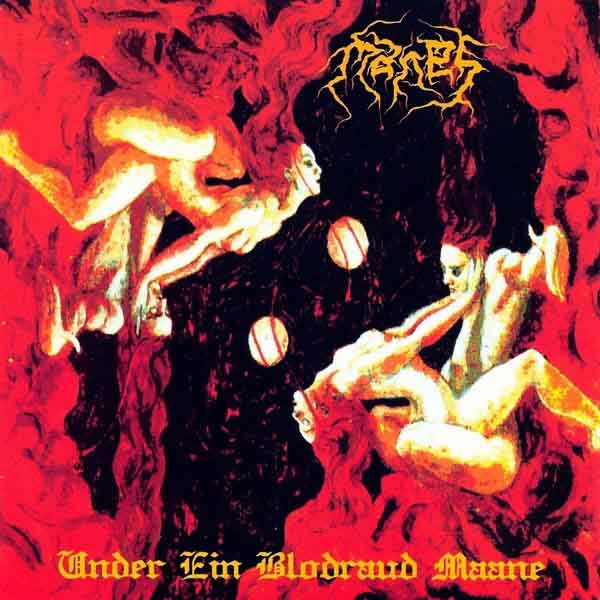 When a genre performs a postmortem on itself as black metal is about to do, it looks back through the years not only to find its peaks, but to find its forgeries. Like the first real black metal forgery, Ulver Nattens Madrigal, Maanes is an artistic fraud that uses the technique of black metal for its own sake, without having any idea of the underlying expression. It does not matter what that expression is because it cannot be policed with a list of rules, but the fact that it exists in actual black metal and not here is a matter of historical record.
"Sensitive guy" metal was nothing new when this was released. Opeth had already been mincing around the edges of the underground for a few years, following up on melodic softer death metal from Tiamat and Cemetary. Paradise Lost was huge and so was the idea of "crossover," since everyone and their dog realized black metal had a narrow set of ideas that required exceptional people to implement, and that with those exhausted there was now a market for imitators. Maanes starts with the proposition that Burzum can be cloned, and to make that clone palatable to the kids emerging from the suburbs like spores from fungus, this clone could be hybridized with light progressive rock like Pink Floyd. The result is 90% black metal tropes laid out in mellow songs that develop seemingly independently of the melodic and corresponding artistic implications of the riffs, making an experience that is pleasant on the surface but leaves a gnawing emptiness from its failure to deliver the kind of profound transport and insightful revelation that black metal provided.
What makes this release hard to attack is that it is well-executed, well-produced and carefully concealed. Maanes are not amateurs; more likely, they are guys who got tired of having no success in other genres despite being better musicians than the people who were making the big bucks and getting their names in the newspapers. Like other Burzum clones of the era, most notably Abyssic Hate, Maanes make good use of Burzum sweep technique and even give a nod to Filosofem with the production. Using grandiose keyboards alongside somewhat obvious riffs capitalizing on known black metal patterns, Maanes keep up the black metal "sound" but these songs never go through the emotional process of discovering what lies beneath and so rapidly the listening experience becomes like hearing a front-loading washer finish up a duvet cover, if the washer had a good background in rock guitar.
The tragedy of black metal is that while it cannot be cloned it can be imitated, and so bands like Ulver and Maanes emerged to put a black metal surface on the same stuff they would have done with their Oingo Boingo cover bands a few years before. Interestingly, the technical competence as songwriters of these bands has declined over the years as nu-black has set its sights more on punk than on progressive rock. The approach remains the same and the effect similarly hollow, leaving listeners wanting more but not sure they want more of this. These sprawling songs carefully disguise how much they repeat their themes, often for seven minutes at a time, in what is essentially verse chorus songwriting that every two repetitions interrupts itself with a brief divergence. Newer bands do not even bother to do that, but make straight-up pop songs with black metal distortion and a few riff archetypes. Nods to Burzum, Darkthrone and Mayhem bubble to the surface throughout this release but it is unable to build context for its riffs to create the kind of atmosphere that those founding bands manipulated so well. The result is like every other aspect of modern society, ultra-competent on the surface and directionless within.
http://www.youtube.com/watch?v=JbYP0mK9xVU
Tags: Black Metal, maanes