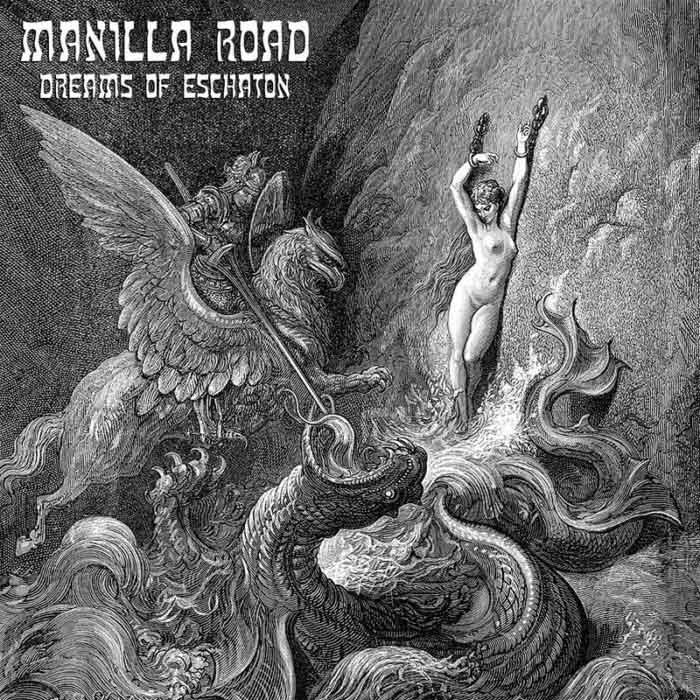 Manilla Road's unreleased "Mark of the Beast" album, recorded between Invasion and Metal, has been pressed to CD and LP by High Roller Records as Dreams of Eschaton. This is the highest fidelity version yet, pressed from a collector's tape that originated from Mark Shelton himself as detailed on the Nuclear War Now! forum:
Back in the mid 90's I first heard of the unreleased Manilla Road album from 1981, recorded between "Invasion" and "Metal". Over several years I managed to get a couple of different dubs of this material through a variety of sources, hoping to find the best sounding version. At the time John Perez was spreading around one of the better copies out there. It boggled the mind that such a masterpiece was unreleased.

Anyway in 2002 this material was finally officially released as "Mark of the Beast". I was very happy to see it. Sometime before that I had acquired a cassette that originated from Mark Shelton, it came from the archive of one of the owners of 80's metal label "First Strike Records" out of Walnut Creek. This tape sounded better than the official release. Over the intervening years I made a rip of this tape and spread it around a bit on the internet, most folks hearing it happy to hear a better version. But this rip has flaws since it was just transferred on my home stereo system.

I noticed in the winter of 2015 that High Roller Records announced a repress of "Mark of the Beast" as coming soon. I immediately contacted them, sending Steffen and Patrick Engel my rip. Engel informed me of some audio errors in the transfer originating from my home equipment. In due course the original tape was sent off to Germany and what came back a few days later blew me away, simply this masterpiece restored to the finest version I had ever heard. I bow before the technical prowess of Engel, who made true one of the wishes of my life: that finally I could hear this classic in the best sounding version possible, restored with the original title and with corrected running order!

Anyway it is out now and and any Manilla-banger owes it to themselves to open their wallet as fast as possible and buy a copy!! Do not hesitate.
Purchase the double CD from High Roller Records.
Tags: compilation, Dreams of Eschaton, epic, epic heavy metal, Epic Metal, Heavy Metal, High Roller Records, manilla road, Mark of the Beast, power metal, Speed Metal