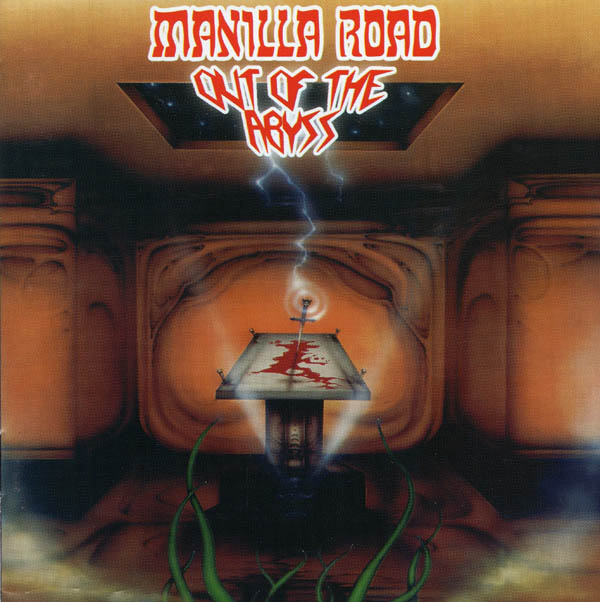 Shadow Kingdom Records will reissue the seventh album from Wichita, Kansas, band Manilla Road, entitled Out of the Abyss on January 13, 2015. Originally release in 1988, this album shows the band in both fully-developed and archetypal form.
Death metal fans coming late to this album may note how it is a prime example of how to do everything right and end up wrong. Manilla Road write speed metal in the style of Judas Priest crossed with the post-Slayer high-speed riffing of bands like Atrophy. They do so with precision picking, a good knowledge of harmony and rhythm, and yet make completely boring music.
Part of reason for this boredom emerges from the style itself. This type of late speed metal emphasizes breaking songs into discrete modules composed of riffs, following the NWOBHM style, but they break rhythm between those which allows little buildup. Instead, it is a series of right angles. Further, in another NWOBHM influence, these riffs are fundamentally static in that they center around a chord and use fills composed of that chord or a matching scale, but do not develop melodically within the riff; as in rock, that is reserved for the vocals. The result feels a lot like a series of riffs in a verse-chorus pattern with a tangent 2/3 of the way through, guided along by vocals. It does not achieve the structural intensity of death metal.
With that being said, it is clear why many bands hail Manilla Road as an influence. Crisp and exact playing gives these riffs a militant technological sound, and whether from this influence or another bands like Deceased, Voivod, DBC and Obliveon have put this technique to good use. Subtle rhythms abound in addition to the obvious toe-tapping speed metal choruses and lead guitar, while very much entrenched in the domain of rock-style soloing, provides an example of technical excellence within that domain. Vocals sound like a more devious Rob Halford. All of these contribute to the power of this release, but it remains enmired in the binary riffing and somewhat static riffs of the speed metal days which were thankfully left behind during the transition to death metal.
This re-issue will give a new generation of metalheads a chance to appreciate the technical ability of this band and the compositional issues raised by this style. For example, should metal go the rock route of static riffs and build on that in the style of mid-period Judas Priest, or should it follow more of the death metal style of phrasal riffs and flexible song structures? Guitarists will enjoy the challenge of playing these riffs at speed and still making the change, and classic metal fans will delight in the whole package. Out of the Abyss does everything right to hit its target, but for those of us who are post-80s, it may be the wrong target.
Whitechapel
Rites of Blood
Out of the Abyss
Return of the Old Ones
Black Cauldron
Midnight Meat Train
War in Heaven
Slaughterhouse
Helicon
For more information: