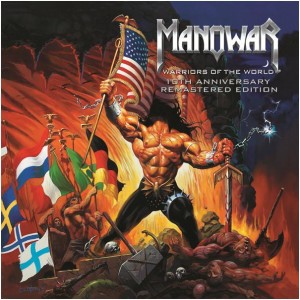 Almost every metalhead, no matter how hardcore or marginalized, perks up when Manowar hits the radio or jukebox. That's because Manowar embodies the spirit of metal, which is a desire to fight for what's true and deny what's popular, because we as metalheads know our own spirits and don't care about the herd.

Thus even though Manowar is classic heavy metal or at its most extreme some form of power metal, it's still something death metallers celebrate along with other bands that live the "spirit of metal" like Slayer and Bathory. Expect those metalheads to be paying attention to the latest Manowar development, which is a tenth anniversary commemorative re-release of Warriors of the World.
The Warriors Of The World 10th Anniversary Remastered Edition contains all 11 tracks from the original release, completely remastered, plus a live recording of "House Of Death" put to tape during the Battle Hymns MMXI Tour at O2 Academy in Birmingham, England, MANOWAR's triumphant return to the land of tea and scones after 16 years.
"I remastered the entire album in our own studios with our in-house engineer Dirk Kloiber," said bassist and songwrite Joey DeMaio. "It is very liberating when you have the opportunity to bring your music to life exactly the way you envision it."
Further, the band have recorded selected songs from live sets in cities across Europe and near Asia which will be compiled into a new live EP, The Lord of Steel Live. It will be available through Manowar's official merchandise outlet.
Tracklist:
1. Call to Arms
2. The Fight for Freedom
3. Nessun Dorma
4. Valhalla
5. Swords in the Wind
6. An American Trilogy
7. The March
8. Warriors of the World United
9. Hand of Doom
10. House of Death
11. Fight Until We Die
Bonus:
12. House Of Death (Live)
http://www.youtube.com/watch?v=Xt2swoOpL1Y
Tags: Heavy Metal, manowar, power metal, spirit of metal