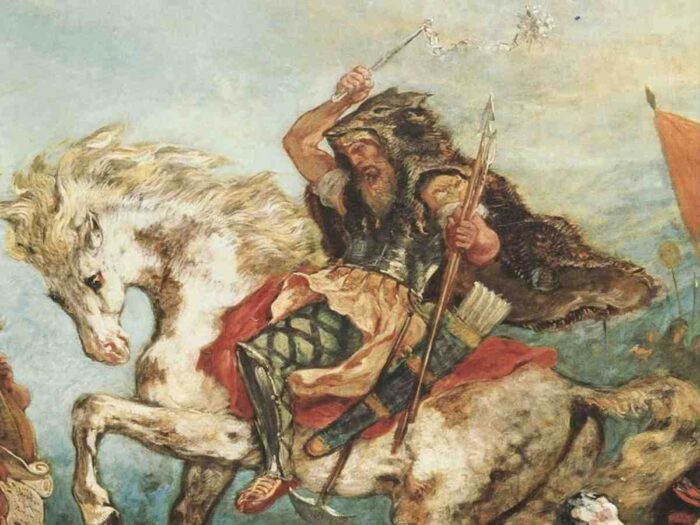 Few bands inspired as much imaginative exploration of ideas as Manowar, which like Bathory looked toward the pre-medieval past for inspiration about the future, finding that humanity had not changed and our path is one of battle, honor, might, pride, death, blood, and victory instead of "progress."
Belarusian musician Borys Shchuka re-imagined "The Crown and the Ring (Lament of The Kings)" on the hurdy-gurdy, a type of drone-based instrument that proves surprisingly adaptive to metal. As he writes:
This folk rendition of a Manowar's anthemic piece is the last single from Kviet haspadarstva ("The Flower of Lordship") EP. Initially I tried singing it to the hurdy-gurdy just for fun but the song turned out to sound natural with it.

The original is a trademark Manowar anthem with lyrics that are quite simple but to the point. I like it for the easily memorable melodies and the many real images and ideas that the lyrics convey, like kings, wars, death, weaponry, pagan gods, loyalty, freedom, sovereignty. All those things that boys like, you know.

The original song isn't too much metal BUT the hurdy-gurdy – at least the Belarusian version that I used – is inherently metal in the sense that you can't play accompaniment in the form of chord progressions on it. It has a couple of constantly sounding drone notes making up a fifth between them; and the main string on which you play the melody itself. The result is similar to what happens in good metal: you refrain from playing chord progressions under your melodies; instead, you play your melodies (or other meaningful patterns) on your instrument directly.
It might not make CNN, but this is worthy of your listening attention:
Tags: borys shchuka, hurdy-gurdy, manowar